Listen closely, Grimm fans. Can you hear them? Wedding bells.
They will be tolling on Season 3 of this NBC drama... but for whom?
As confirmed by TV Guide Magazine, Monroe will exchange vows with Rosalee when Grimm returns in the fall, through producer David Greenwalt warns that problems will arise between the couples. Thanks to some meddling parents.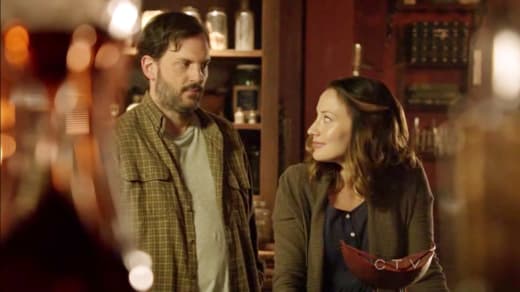 "When you marry someone, you marry their family," says Greenwalt. "Monroe's mother and father are old-school Blutbads - they may still even hunt, for all we know - and they think Fuchsbau like Rosalee are for eating, not for settling down with."
That does seem like it would be an issue.
Elsewhere, look for Nick to feel the effects of what went down on the Grimm Season 2 finale, when he was booked for a trip to Europe inside a coffin.
"If Nick does survive this zombie state, he's going to be very dangerous," teases executive producer Jim Kouf. "There will be residual effects that will change him in a huge way."
Grimm returns with new episodes on Friday, October 25.
Matt Richenthal is the Editor in Chief of TV Fanatic. Follow him on Twitter and on Google+.