Burn Notice Review: Deconstructing Westen
Jim Garner at .
Michael took a drugged-induced trip down memory lane as part of the final step of meeting the head of the organization that Sonya works for in "Psychological Warfare."
I've commended Jeffery Donovan's acting skills before. But allow me to append that previous comment by pointing out that Donovan deserves an Emmy for his performance this week. Additionally, John Pyper-Ferguson (Alphas) was incredibly smooth, caring and scary-as-hell as James.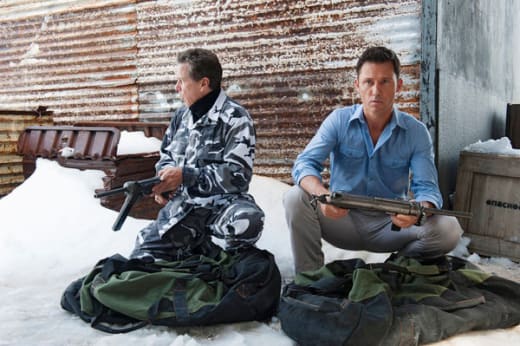 I wondered when I saw Tim Matheson's name in the opening credits how they were going to work Larry Sizemore into the episode because he was blown to pieces by Fiona on Burn Notice Season 5. Sweaty-drugged-out-vision-quest seems like such an easy answer in hindsight.
There were several little details that caught my eye during Michael's trip through the looking glass. For example, in his visions he was wearing a clean version of the actual cloths he was wearing in the interrogation. Did it seem like he was going to break the fourth wall as he went back and forth between James and his visions to anyone else? Don't get me wrong, I'm glad he didn't as it would have ruined the scene; but at least twice as he looked at the camera I kind of expected it.   
As this final season comes to a close, it's nice to get a few missing details filled in. This was a perfect example, all the times that Larry showed up, I don't think Michael ever went into the nuances of why they stopped working together. If they did, then it was minor enough that it didn't stick with me. 
Seeing the incident with the factory was a triple win in my book. First, it was poetic that Larry was later blown up by Fiona. Second, we saw the details of Michael and Larry's falling out. Third, and the most mind-bending, the factory incident has been the driving force behind his low body count and collateral damage record. Mind. Blown.
The only thing in the episode that stood out strangely was Michael's dock-side confession to Fiona about him and Sonya. Isn't Fiona sharing a bed with Carlos? Does Michael think they are only cuddling in that bed? 
The only thing I could figure out was that the scene was for us the audience and not really part of the story. I'm pretty sure we all know that Michael is still in love with Fiona and slept with Sonya for the job. We really didn't need it spelled out, we know our Michael.  
But that one odd scene aside, this was one the best episodes of Burn Notice ever filmed. I didn't even care about the Hyundai commercial Sam and Fiona did as they were following Sonya. Okay, to be fair, the drifting slide that Fiona did around the corner made the rest worth it. 
Overall, I'm giving the episode 4.9 defiant stares for young Michael who bravely stood up to his father, which in turn allowed him to defy James and the drugs.
I'm ending this week on a question (please feel to comment below with your answer): Were you surprised by anything in Michael's visions? 
Jim G. is a TV Fanatic Staff Writer. Follow him on Twitter.