Sunday's episode of Revenge saw the ABC introduce a new foe for Emily (and another for Nolan) while Jack became even more of a wild card and the plot thickened around the Graysons.
Below, TVF's Miranda Wicker, Kate Brooks, Steve Marsi, Matt Richenthal and Christine Orlando break down "Illumination" and look ahead to next week's episode in our Round Table Q&A.
Weigh in with your own responses to these Revenge topics below!
-------------------------------------------
1. How much do you love Nolan Ross?
Matt: About as much as Nolan Ross loves a good pun.
Miranda: How much do I love Nolan Ross? Double infinity. And then some.
Kate: My love for Nolan is endless.
Christine: Nolan is the caretaker of the Hamptons. Emily, Jack, Padma. How can you not love the guy. Everyone should be so lucky to have a Nolan Ross in their life.
Steve: He is very much the Mann. See what I did there?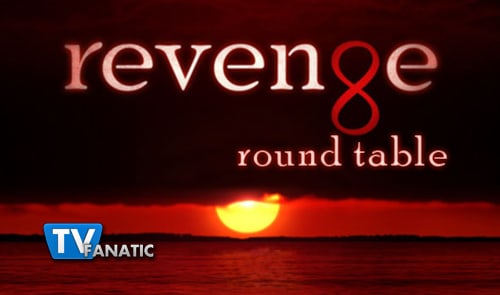 2. Emily's latest obstacles: Intriguing or boring?
Matt: Closer to intriguing than boring. Sure, tossing in her foster brother seems random and contrived, but at least this focuses on the personal side of our heroine and takes AWAY focus from the wholly unrelated Initiative nonsense.
Miranda: In between? Eli is a distraction. We're not supposed to have any more of those, remember? But I think he's intriguing in that he could be useful.
Kate: Intriguing. I think Eli is going to cause some problems and I look forward to seeing her work through all of it.
Christine: I kind of like Eli. I don't think he necessarily means Emily harm... just yet. But he's definitely sees an opportunity and is working his own agenda. Of course Emily could have to take out her foster bro if he gets too close.
Steve: I rolled my eyes at first, but am now sufficiently intrigued by both. Now we just need to hope they move the arc of Revenge Season 2 along instead of holding it back a la Helen Crowley.
3. Does Daniel have a drinking problem?
Matt: Does Ashley have an I'll-sleep-with-anyone-to-get-ahead problem?!?
Miranda: I really don't like when Daniel drinks. I don't think he has a problem, necessarily, but I just don't like him when he's hitting the sauce.
Kate: Yes but I really do not care ...
Christine: I think so. Alcohol seems to be his way of dealing with stress. We know it's lead to tragedy at least once before. It's definitely something he should be more wary of instead of diving into a bottle every time things get tough.
Steve: I was wondering this myself. We have no idea how high his tolerance is. Let's keep an eye on it, for sure, but reserve judgment before we plan an intervention.
4. Rate this week from 1-10 on the Charlotte/Declan Uselessness Index (CDUI).
Matt: 1.5. Charlotte's (believed to be) sister just died and she didn't return Declan's phone calls, people. SHE DIDN'T RETURN HIS PHONE CALLS!!!!!
Miranda: A 10 for both of them. Dumb, contrived lover's quarrel between them. Dumb dumb dumb.
Kate: Just get their teenage angst and drama out of here. I rate a 15.
Christine: 10. Declan's jealousy was so contrived. It's as though the writers are looking for anything to keep their youngest couple even remotely relevant and it's just not working.
Steve: 8. Pretty darn useless, for sure. But I bet things can get even worse.
5. Biggest threat to Emily's Revengenda: Jack, Eli or the Falcon?
Matt: The Falcon. I don't know if it's his connection to David Clarke's set-up, the fact that we've never seen his face or Nolan's sheer panic over the return of his hacking nemesis… but I just don't trust that guy.
Miranda: The Falcon. They were handed bankrupting the Graysons on a silver platter and couldn't do it because of him. So the Falcon.
Kate: I think it's a close tie between The Falcon and Jack. Jack has heart ... I think that's a bigger deal than anything else.
Christine: Jack's actually become interesting and no one is more surprised than me but both he and Eli can be handled. The Falcon is the new wild card.
Steve: Going with Jack because Emily is so invested in him, and because he has no clue what's going on but is sure that something is going on, and is thus wildly unpredictable.
6. Speaking of the man/myth/hacker … is the Falcon someone we know?
Matt: No. Revenge, often to its detriment, likes bringing in random characters (see Eli, Aiden, Trask) far too much. I expect the Falcon to be similarly arbitrary.
Miranda: I said it in my Revenge review, but I think it could be Padma's dad. The jury's still way out on whether we can trust her.
Kate: I hope so! Plot twist!
Christine: I hope so. It will be boring if he's not. Being that he helped set up her father, the Falcon goes back quite a ways so that takes most of the younger players out. The rest is a guessing game.
Steve: Would be cool if he were, especially if he were brazenly autographing his hacks while hiding in plain sight from people we know. But my gut says Matt is probably right.
7. If you decided to launder money in a fake foundation, what cause would you pretend to support?
Matt: The Ron Swanson Mustache and Breakfast Club for Men.
Miranda: A foundation for those harmed by dry cleaning chemicals. Because laundry. Laundering. The double entendre gets me!
Kate: Oh, I love this question. I have no idea other than I wouldn't want to launder from something that actually makes a difference...
Christine: There are so many wacky charities already out there. Naked Clowns. Adopt-a-Donkey. Pajama Program. I could spend days trying to come up with one of my own.
Steve: Four words: Nolan Ross Super PAC.
Steve Marsi is the Managing Editor of TV Fanatic. Follow him on Google+ or email him here.