I was truly impressed with "The Miller's Daughter," as Once Upon a Time made me sympathize with Cora, something I hadn't thought possible.
Rose McGowan was perfectly cast as a young Cora and I felt her rage when Eva tripped her and the King made her stay on her knees. When she told Rumple that she wanted their necks to break from bending, I understood her desire for vengeance.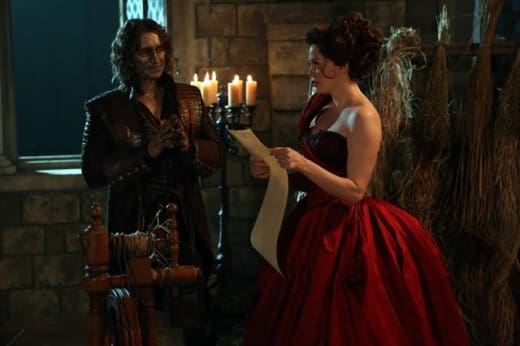 What I never expected was the relationship between Cora and Rumplestiltskin. There were moments when I speculated that Regina could actually be Rumple's daughter but that was not meant to be. 
Rumple has certainly had his heart crushed when it comes to love. His wife and Cora both left him and he may have lost Belle due to her amnesia.
In an episode full of incredible moments, the most emotionally moving was Rumple's phone call to Belle. He told her she was a beautiful woman who loved an ugly man and how she created good where none existed. How she was the only person who had made him want to go back to the best version of himself. 
He spoke from the heart as he believed he was dying and his words not only moved Belle but Neal who admitted he didn't know his father had the depth of those feelings in him. Rumple had to remind his son that he'd spent a lifetime searching for him all to say he loved him and he was sorry. If that didn't push Neal to give his father a second chance I don't know what will.
Despite all the drama, Emma was able to bring in some much needed humor. When Neal questioned her magical abilities she was quick to shoot back in this Once Upon a Time quote.
Are you being judgy about this? Because you're not allowed to have opinions about surprises, son of Rumplestiltskin. | permalink
But the biggest shocker of the night went to Mary Margaret. Still reeling from watching another loved one die at Cora's hand she was certain that the only way to save her family was for Cora to die. When David tried to remind her that she's always been pure of heart, Rumple was quick to interject the reality of Cora's vengeance.
Mary Margaret: There's no coming back from murder.
Rumplestiltskin: There's no coming back from death either and that's what will happen to your loved ones. | permalink
I was truly in awe of Mary Margaret's ability to emotionally manipulate Regina but using her longing for her mother's love to convince her to put back Cora's heart.
Mary Margaret: She can't love you, you know. She doesn't have her heart. | permalink
I really never saw that one coming. I was both impressed and horrified that she embraced such a dark path. If only she hadn't tried to stop it at the last moment. Then perhaps Regina wouldn't have realized the truth.
Heartbreaking was the only word to describe Cora's death and Regina's reaction. For the first time in her life Cora realized that love could have been enough. It could have meant more to her than power but unfortunately that revelation only came as she lay dying in her daughter's arms. At least she told Regina that she would have been enough before she died.
But what does this mean for Henry's family? Is Henry's love enough to stop Regina from eviscerating Snow? Will Rumple's words improve Belle's memory or will she continue to flounder? And how will David, Emma, and Henry react to Snow's actions? I'm guessing Storybrooke will never be the same.
C. Orlando is a TV Fanatic Staff Writer. Follow her on Twitter.