Jim's Notebook: Open to Parenthood, The Carrie Diaries and More!
Jim Halterman at .
It's been a Paley-filled week for my Notebook, as the 30th Annual PaleyFest continues with casts and creators of your favorite shows speaking on seasons past and episodes to come.
Fortunately, if you can't make the trip to Los Angeles, you can still watch the panels the following day on Hulu.com and HuluPlus. For more information, visit Paleycenter.org.
In this week's edition, I empty out some fun from last night's Parenthood panel, while including intel on the series finale of The Secret Life of the American Teenager and a big question on a possible romantic pairing on The Carrie Diaries. Let's get to it…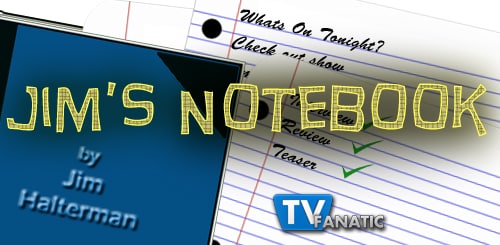 PARENTHOOD While we all wait for a green light for Season 5, Lauren Graham shared her dismay when she realized her ex on Parenthood, Jason Ritter, had been cast opposite her former Gilmore Girls daughter, Alexis Bledel in a new Fox comedy pilot.
"It really freaked me out," Graham said during the Q&A last night. "Because I have such specific relationships with these people and these characters that it never occurred to me that they would meet each other. It's like the strange cross-over episode of Happy Days where they go visit ER, which doesn't make any sense in my mind... it was information that was very surprising to me."
She then sincerely added that Ritter and Bledel together on TV makes so much sense but that maybe Sarah should get a chance at some of Rory's exes from GG and, yes, Jared Padalecki's name came up. Now THAT would be a very special episode!
THE SECRET LIFE OF THE AMERICAN TEENAGER Think Amy (Shailene Woodley) and Ricky (Daren Kagasoff) will finally get their happy-ever-after ending when the series wraps up after Season 5?
Kagasoff was coy during a recent press call and would only say that in the finale, "many questions will get answered, that's all pretty much I can say. I know everybody wants Amy and Ricky to end up together and I guess you guys will see if that happens."
Kagasoff also shared that he'll have fond memories of that last day of filming: "We shot a lot of intense scenes, and to wrap up the show the way we did -  I'll never forget it. And all of the people that were there that day, you just don't forget those types of moments and thankfully I'm going to have that for the rest of my life, so probably the last day of shooting." (The final season begins airing May 18 on ABC Family)
THE CARRIE DIARIES Besides all the romantic ups and downs with young Carrie Bradshaw, one of my personal favorite relationships is the friendship between Sebastian (Austin Butler) and Mouse (Ellen Wong). I asked creator Amy B. Harris if there was ever a thought about a little crush between the two.
"For me, obviously, there's always the soap element to shows like this," she said. "But it felt like the wrong place to use the 'now I have a crush on you and what am I going to do about my friendship with Carrie?' Mouse is a very loyal friend and they are very different people. She is so type-A and so tense and here's this kid that is so laid back and confident and has no parental guidance at all so I think they've always been a funny odd couple. I definitely don't see them as a romantic match."
And while last week's episode saw Carrie's New York world blow up when all her secrets came out, her love affair with the Big Apple is not dead:  "New York is definitely not over for Carrie," Harris promised. 
That's a wrap for this week! Anything else you're dying to know about your favorite show? Leave a comment here or you email me directly at jim@jimhalterman.com. And remember: follow @TVFanatic for all your TV scoop!
Jim Halterman is the West Coast Editor of TV Fanatic and the owner of JimHalterman.com. Follow him on Twitter.