The winter hiatus is officially over, as Emily Thorne marked her return in the Hamptons with a big red X. In "Power," she steered back to her original path of trying to find justice for her father David Clarke.
It seems like the sudsy drama took some time off from the Revenge Season 1 formula of a new victim every week. While it was good to shake things up in order to establish some background and answer some questions, it also deviated from Emily's initial path.
For awhile it felt like she wasn't trying to find justice for what was done to her family anymore. In this latest installment, the red sharpie was back in all its glory, though, as was Emily's original format - and boy was it powerful.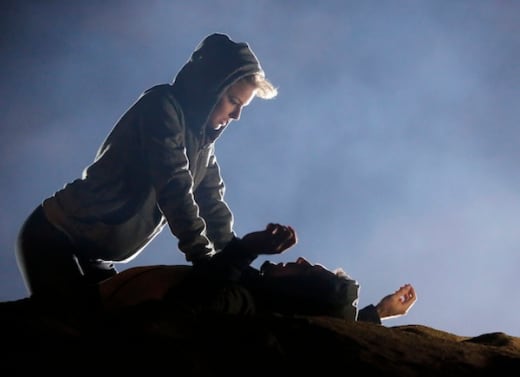 Interestingly enough, the most moving lines didn't even come from any of the main characters. Guest star Patricia Barnes blew my mind as she publicly declared something that Emily has been waiting to hear for a very long time. (I will get to the laugh factory of Nolan Ross quotes later.)
The verdict rendered in the David Clarke trial came from a tainted jury. 
Boom, that was a powerful statement. The only question now is whether or not her words will stand and the case will be reopened. Clearly the woman has had an emotional journey heading up a foundation called "The Liberty Project," which was all about righting the wrongs of the justice system. How ironic? For once Emily's investment in a philanthropic cause seemed to truly make sense; it was not just on the basis of her getting closer to some of her enemies. 
Back to Patricia Barnes: she spoke a line that might as well be the tagline for Revenge. The greater the power, the greater the potential for abuse. It seems like the more power these people have, the more messed up they are, and the deeper the problems they get entrenched in. That was the theme of this whole episode as Emily's voiceover talked about how power also has the proclivity of corruption. Are any of these power players well intentioned? 
The judge's abuse on Patricia was moving on a different level and when she took off her jacket to show the marks I felt my eyes well up. When Emily told her in the bathroom how that note gave her hope and by coming forward she could help other people, I wholeheartedly agreed. I only hope that Patricia's story can get a happy ending and she can get away from her now publicly disgraced husband. 
As I said before, Emily is back on her path, which is great, but it's going to cause a few complications. Fake-ups and make-ups are all fun and games to act out, but as the wise Nolan Ross spelled out:
Bros before hos only works if he's not still in love with the ho...bro. | permalink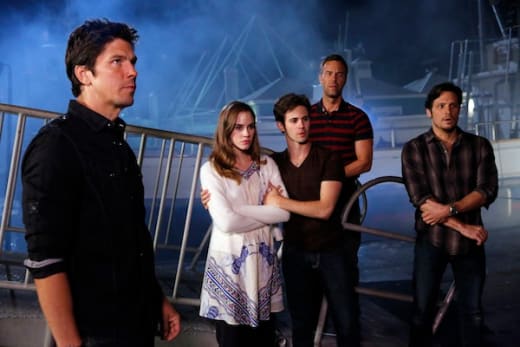 Oh Nolan, I've missed you and your TRIPLE popped collared wardrobe over the holiday hiatus. It's so lovely to have my favorite techie back in my life. But how does he feel having his ex favorite techie back in his life? Is Marco gonna screw him over again? Do you think there's still love there? Where was Padma? Was she back visiting her alma mater Cyprus Rhodes University? Sorry couldn't help it.
The complications that are sure to arise from Emily realigning her path have nothing to do with extra room in her sidecar, as Nolan put it. Even though I've made my position clear on Team Emily and Aiden, ultimately they each have their own paths of revenge and that will tear them apart. Especially now that Aiden is personally tangled up with The Initiative, they are screwed.
By the way, if Helen Crowley knows everyone's every move, what does she need Daniel and others to do her dirty work for her? It seems like she could find all of the answers on her own. 
I'm waiting for the point that all over the aforementioned stories converge with the Porter/Ryan feud. I think tonight was a turning point now that Amanda is aware of the shadiness that's been occurring. I've warmed up to her so much since Emily and Amanda stopped fighting over Jack and became real allies. I truly enjoyed their scenes at the counter.
After this latest snafu, Amanda is pissed that somebody is messing with her family. She knew the Ryan brothers were rotten as soon as Declan and Jack did. Call it a sixth sense from somebody who grew up in a bunch of lousy environments. She isn't going to let them get away with messing with her happy family. She fought long and hard to get where she is today. Something tells me she's going to turn to Emily for help. Despite their differences, these two have been in each others lives for a long time and have an unbreakable bond. 
Victoria was pretty behind the scenes this week, but I have no doubt she's going to re-solidify her role as our favorite monstrous matriarch in the coming weeks. How long do you think her detente with Emily will last? When will Emily and Aiden's fake-up become a real break up? Can somebody tell me what the deal is with The Initiative already?
Aside from the fact that they're a creepy corporation with a couple of bad actors, I'm still pretty lost on the specifics. As always, leave your theories and responses in the comments! Here's next week's promo: