Revenge Review: Forgive and Never Forget
Steve Marsi at .
"Good for Revengey stuff. Sad for you." - Nolan.
The full, public introduction of Jennifer Jason Leigh as Kara Clarke tonight served as yet another Revenge game changer, altering the playing field and expectations, while raising even more questions than it answered.
Kara provides Madeleine Stowe's Victoria with a new type of adversary, a slightly unhinged one with skeletons and secrets galore, made even more delicious by the fact that her agenda isn't understood by anyone else.
Victoria Grayson, speechless, utterly baffled and legitimately unsure what to make of the situation? In that, Revenge has done the unthinkable. You half expected those pruning shears to end up in Kara's back.
The slow-motion hug. The empty expressions on both of their faces as they attempt to size up the other. The dueling motivations neither understands. Who says there isn't room for another sociopath on this show?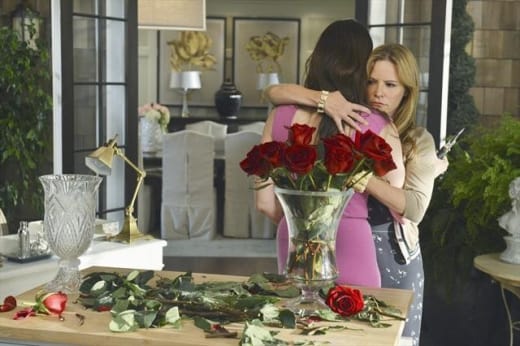 Safe to say this wasn't in Vicky's master plan. Under the impression that the white-haired man remains alive and that Kara is feeding him information, she and Conrad hatched a plan to remarry ... for legal reasons.
By tying the knot, they can't be forced to testify against each other if and when the Initiative (or the FBI) comes calling. After Conrad's romantic proposal, there couldn't have been a dry eye in the house. So touching.
The Wedding of the Century takes place on next week's episode, and with enemies both real and perceived trying to undermine the increasingly paranoid Graysons, it should be a memorable affair to say the least.
These Clarke girls really are a Thorne (sorry) in their side.
Kara also impacted Emily profoundly, but the wheels she set in motion with her daughter were emotional as well as tactical. When the memories came flooding back, our once-unflappable girl broke down in tears.
We learned a wealth of information about Kara tonight, through flashbacks and in the present day. She came back looking for WHM (her true love), but was forced to confront her past with David (her first love).
The mother who tried to drown her sought forgiveness in the lie she (and David) lived all of these years. These revelations would be difficult enough to stomach were it not for the FauxManda situation.
Imagine if your long-presumed-dead mother reappeared and you had to use the woman masquerading as you - who just had your own first love's baby, incidentally - to probe her for information? And then that information involved you dying, coming back to life, and fed a 20-year diet of lies? Then finding out mom is actually still alive?
If all of those things combined don't register around Infinity times Infinity on the Freak-o-Meter, what does?! It's a lot to take in, and Emily VanCamp really sold her namesake's vulnerable, innocent side tonight.
The good news is that Emily came clean to Amanda about Carl and sought "Forgiveness" of her own. The question (which we'll address more in a second) is where the Emily-Amanda relationship goes next.
There were a bunch of additional, significant developments in what was another solid episode this week, each weaving into the plot separately and in conjunction with the overarching narrative of Season 2:
Padma's request for information about David Clarke's contract. Deliberately or not, she tipped off Daniel to the fact that Grayson Global possibly OWNS HALF OF NOLCORP. Which ties in to ...
Aiden teaming up with Emily to destabilize Grayson Global. Acting as Takeda's proxy, the smooth Mr. Mathis quickly won over Daniel (and Ashley) while keeping close tabs on the hedge fund. One still gets the feeling that there may be more to his connection with Ashley than meets the eye.
That slime Mason Treadwell returning to sniff out the Kara story. No one has figured out the Emily-Amanda switcheroo yet, although Mason is hot on the trail after spotting her scar, or lack thereof.
Kenny buying the Stowaway from Jack. It looks like his plan is coming together, and while it remains to be seen what his true motivation is, you can expect the consequences to be far-reaching.
Nolan was the man. Pretty much goes without saying.
Which of these storylines do you find most significant, and how will they play out in the coming weeks? Before you weigh in with your predictions, theories and views, take a look at next week's promo:
What did you think of tonight's Revenge? Discuss in the comments below!
Steve Marsi is the Managing Editor of TV Fanatic. Follow him on Google+ or email him here.