Revenge Photo Preview: Kara vs. Victoria!
Steve Marsi at .
Most. Awkward. Lunch. Ever.
In the fifth episode of Revenge's second season this Sunday, Jennifer Jason Leigh's Kara Clarke comes face to face with Madeleine Stowe's Victoria Grayson, setting up a clash of the slightly unhinged titans.
These two have some SERIOUS catching up to do!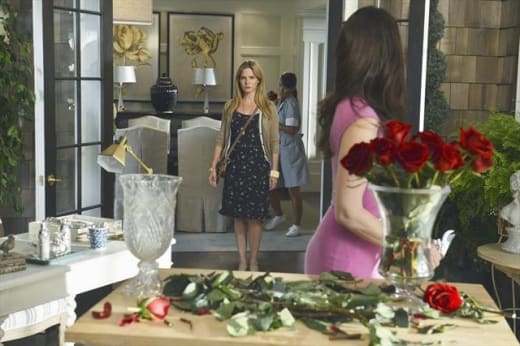 WARNING: The rest of the photo gallery below may contain spoilers.
WARNING: No, seriously, the pics give away one fairly big mystery.
ABC's episode synopsis hints that "faces from the past are reemerging all around the Hamptons, and for Victoria and Emily it brings on different kinds of trouble and significance." That's putting it mildly.
Complicating matters for Emily is Amanda Clarke ... a.k.a. the original Emily. Margarita Levieva's character was left in a coma after falling from Victoria's balcony on this week's awesome Revenge episode.
When will she wake up? What will she remember? And will Kara figure out who Emily Thorne really is? How will Victoria respond to it all? To say the plot thickens may be the understatement of all time.
Click to enlarge more images from "Forgiveness" and comment below:
Steve Marsi is the Managing Editor of TV Fanatic. Follow him on Google+ or email him here.