I didn't see that coming.
Of course the season finale of Revenge was so full of life changing, death defying moments that I really need to specify which that I'm talking about.
Who thought that "Reckoning" would have Emily battling the White Haired Man with an ax? Seriously, an ax?!? Damn, that girl wasn't kidding around and I suppose that's what made it all the more surprising when she showed mercy and let him go.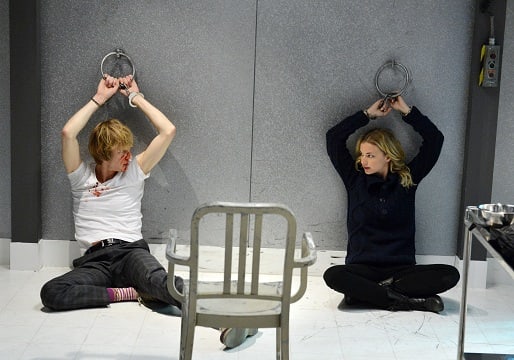 After last week's episode left us with poor Nolan unconscious on the floor, it was good to see Emily come to his rescue. And as Emily broke them out of their restraints with ninja stealthiness, Nolan gave one his classic Revenge quotes of the night:
 I'm not worthy. | permalink
After the battle, Emily and Nolan were both battered and bruised but Em sincerely thanked him for everything he'd done for her. Then they shared some champagne and toasted her Dad. That one mellow moment was probably my favorite of the hour.
The finale solidified my love for Nolan. He had all the best lines, injected just the right amount of humor and had Emily's back both strategically and emotionally.
When Emily was at her lowest, believing she'd lost the man she loved due to her own manipulations, it was Nolan's voice on the other end of the phone trying to hold her together.
 Do not do anything revengy until I get there. Got it? | permalink
He really has become her best friend.
Did anyone else think that Daniel and Emily's breakup was just a little too easy? He confronts her, she admits she kissed Jack and says they're both changing, then she hands him back the ring and it's done? It was much quicker and cleaner than I ever expected it to be.
And how could you not love Victoria's engagement present.
I knew that your future with Daniel was as empty as that box. | permalink
Now that's cold... and brilliant. And to think that Emily could have had her as a mother-in-law. I'm sure it would have made for some cheery holiday dinners.
But the reveal that really threw me: a pregnant Amanda?!? I half wondered if she'd pop up again before the end of the season but I didn't expect there to be a baby in tow. 
Although I've never felt the chemistry between Emily and Jack I couldn't help but feel the sucker punch Emily received when she walked into the Stowaway and found her glowing alter ego supposedly carrying Jack's child. Ugh.
I say supposedly because Amanda's never been the most trustworthy girl; so, honestly, the kid could be anyone's but I highly doubt Jack, being the stand up guy he is, will ever question the child's paternity.
Other surprises of the night included the moment I came close to feeling sorry for Conrad. After bestowing Lydia with that beautiful and I'm sure damned expensive promise ring, she took it and turned on him anyway. When he realized her betrayal, he looked so sad I almost felt bad for him. Almost.
That Ashley's making her move on Daniel was no surprise but can you imagine Victoria's response if these two get together?!? Ashley will never survive. Victoria will bury the little gold digger. Of course, that's if Victoria's still alive.
The most predictable moment was Charlotte's overdose. That's been building for weeks as neither parent can take 10 minutes out of their back-stabbings and cover-ups to pay any attention to their daughter's downward spiral.
When the White Haired Man told Conrad he had a plane to catch I figured he'd be rigging Victoria's plane to blow. Now the question is, did she somehow survive?
And as Nolan came to the rescue one more time with a copy of the hard drive, we were left with a brand new mystery. Who the heck is Emily's mother? During their brawl, the White Haired Man mentioned that Emily must have gotten her fight from mom. Does he know her and why did she disappear from Emily's life and not return even when her daughter was tossed into the foster care system and then juvenile hall? 
As we head into season two, will Victoria, Lydia, and Charlotte survive? Is Amanda really carrying Jack's baby? How big is this conspiracy and will Emily ever have a chance at getting her Revenge?
C. Orlando is a TV Fanatic Staff Writer. Follow her on Twitter.