If there's one thing I learned on Downton Abbey this week, it is that even during a world war - in a massive country house masquerading as an officer's convalescent hospital, with friends and relatives behind enemy lines - things can become a bit mundane.
Despite multiple small scandals, lost soldiers, a concert and the rather triumphant return of Mr. Bates, there was nothing to really sing about in this episode. The very best bits came, as they almost always do, as quips from the lips of Violet. For those, please visit our section of quotes, as she was on fire once again. What I wouldn't give for someone to whisper in my ear the witty comebacks she expels during regular conversation.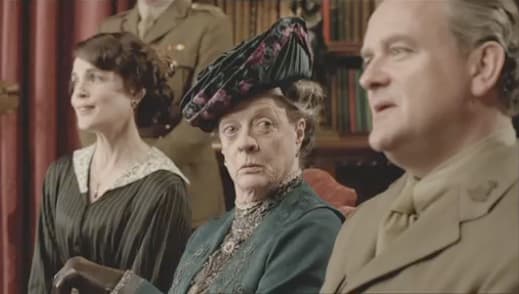 Lady Grantham finally got her way and Isobel left Downton Abbey to work elsewhere. She had medical knowledge she can share and wanted to be of use. Cora clearly had no desire to include her in the running of the Abbey, despite her outward appearance to the contrary. I hope that doesn't last long, because I enjoyed Isobel and the way she tried so determinedly to be appreciated. She deserved more than she received at the hands of Cora.
With Isobel's departure, her staff was left with little to do in an empty house. Mr. Mosley offered his services to the Abbey with the hopes of becoming Robert's valet and Mrs. Bird started a soup kitchen. Isobel would most certainly approve of their willingness to help during the war, even if they were doing it in her home without her permission. I was pleasantly surprised that Mrs. O'Brien's plan to throw the staff to the streets was not upheld by Cora. Instead, Lady Grantham offered to pay for the food used in the kitchen with household money and to assist when she could.
As Mr. Mosley's hopes of rising in the household ranks were dashed with the reappearance of Mr. Bates, everyone else in the house rejoiced at his return. Most especially Anna, as any chance to rekindle their blossoming romance brings happiness to them both. Once again, Mrs. Hughes tried to frighten Bates by tossing around Thomas' new position, but those two are close to becoming the household joke.
Thomas loves to talk about how special he is since he returned to the Abbey as something other than a servant. If it's such a swell gig, then why does he spent 95% of his time fraternizing with the servants he purports to abhor and sitting in their kitchen? I've seen none of the other hospital staff in the servants' kitchen. Perhaps he has been banished from the likes of the professionals for his poor demeanor and insulting ways. It's too bad the servants can't do the same.
Ethel continued her flirtation with the major, and it resulted in her dismissal and pregnancy. I don't know much about World War I, but it would be nice if she got her happy ending and the major decided to marry her. Downton Abbey isn't a romance novel, however, so I fear a darker future awaits her.
Violet's curiosity that Sybil had no beau lead her to believe she was fraternizing with the help. Mary stumbled upon Sybil and Branson in deep discussion shortly thereafter, so Sybil has been outed. Mary promised not to take it further, but the one thing the shedding of this secret did for Sybil was to open her eyes to what might be happening. Branson accused her of being in love with him, and now that she can see if from outside herself, I think she will slowly come to that realization herself.
Finally, Mary's own future was addressed as Mr. Carlisle asked Robert for her hand in marriage. Despite her lingering feelings for Matthew, she thinks it best to accept the proposal. When Matthew and William returned from war during the concert, I had just one more romantic novel wish that Mary would stop her song and run down the aisle and into Matthew's arms. She's far too repressed for that, and they once again just danced around their feelings for one another by talking about their intendeds instead.
Thus is life at the Abbey. They're into a routine and comfortable in their new world. The next big jolt should come when the war ends, the Abbey returns to being only an Abbey and the entire family has to figure out their rightful place in the new world.
Carissa Pavlica is the managing editor and a staff writer and critic for TV Fanatic. She's a member of the Critic's Choice Association, enjoys mentoring writers, conversing with cats, and passionately discussing the nuances of television and film with anyone who will listen. Follow her on Twitter and email her here at TV Fanatic.