Chuck Review: The Secret Ingredient of Caring

Dan Forcella at .
In a final season that has been "chuck" full of monumental episodes, "Chuck Versus the Kept Man" didn't stray far from that pattern. Between Sarah's possible pregnancy, Jeffster stumbling upon Castle and Casey thinking about settling down with a woman, it certainly felt like there were only four hours left in the series after "The Kept Man" was finished.
Unlike a number of other episodes from this fifth season of Chuck - notably the previous two - the epic events from "The Kept Man" didn't quite equal an epic episode.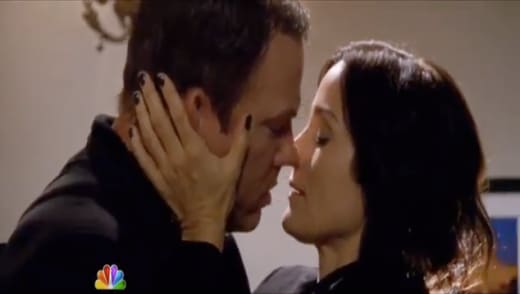 I love John Casey as much as the next guy or gal, but the main issue of the episode was his main story with Verbanski. Their little game of cat and mouse was cute, but certainly not cute enough to keep my attention buzzing for 40 minutes.
As great as those two seem like they should be together, it has all seemed a bit forced during this last stretch run. Do we need to see Casey settle down with a woman? Or can't it be enough that he is building such a great relationship with his daughter?
That brings us to the first part of this week's Chuck Triple Threat. So order your bone-in rib eye as blue as they can find, and join us...
Heart
For me, Casey's arc would have been perfectly complete if they just focused on his relationship with Alex. It is yet to be a great father-daughter bond, so making sure they get something strong going before the season ends would have been my first goal for John. Try to tell me you didn't smile when Casey admitted there was another girl behind the scenes and the camera cut to him and Alex sharing a brewski. You can't. I didn't think so.
The other part of "The Kept Man" that got my little heart pumping quickly was thinking about little Chuckie Bartowskis running around everywhere. It was nice to see that first Chuck was spiraling out of control thinking about how to be spies and parents, and then Sarah was.
She has to be preggers... right? She was lying to Chuck, or she misread the test, or it was a false negative, because, come on, does this show end without little blonde baby bombshells? I doubt it.
Action
There were a couple of nice action sequences - Sarah barging in with the Hummer was a nice touch - but nothing to shake a stick at. Again, all of the stuff related to the Verbanski missions kind of missed the mark.
Comedy
Let's start with Yvonne Strahovski. A week ago, she displayed one of her more emotional performances in "Chuck vs. the Baby." Here, she put forth one of her funnier outings. I'm not sure which was more hilarious, when Sarah thought that what set Carmichael Industries apart from other companies was that they sold discount electronics, or with her burn on Chuck when she told him that she never thought she would be talking about having a family with "such a huge nerd."
Everything related to Casey's deep v-neck sweater was fantastic, and Chuck attempting to order for his wife was nothing short of brilliant, but the other main chunk of comedy came from another stellar Buy More subplot.
I knew intelligent Jeff was going to make waves, but not like this. I did not imagine he would be able to figure out everything about our favorite spies in less than a few hours. But it's absolutely hilarious that he did. I loved Morgan using Awesome as a fake spy to attempt to throw Jeffster off the scent, and especially the Captain's white Bond jacket, but I'm glad it didn't stop the two buffoons from finding Castle.
With only four hours remaining in the entire series, it was about time our favorite musical duo found out what was going on right under their noses. The big question now becomes, though, what do they do about it? Do they try to get in on it? I could see Lester wanting to tell some authorities, or try to get a reward out of it in some way.
Moving Forward
What does more people finding out about the spy team do to their end game? The more people that know, the less safe everyone is. But where can they go? Can they all stay together in the end?  If they stop being spies, will they be safe? Can Sarah and Casey even stop being spies? Isn't it in their blood?
There are only two episodes remaining before the two-part finale on January 27. I will be talking to Yvonne Strahovski on Tuesday, so hit me up on Twitter with any questions you would like to get answered as we come down the final stretch of Chuck.
Finally, what did you all think of "Chuck vs. the Kept Man?" And what are your predictions for the finale? Weigh in below.
Dan Forcella is a TV Fanatic Staff Writer. Follow him on Twitter.