There was nothing spooky about this Friday the 13th episode of Chuck. There was, however, a lot to enjoy in "Chuck Versus Bo," including my favorite song of all time, the return of the frosted tips and the appearance of apparent actress turned super spy Bo Derek.
Most importantly, though, it ended with yet another character inheriting the intersect. In my interview with her on Tuesday, Yvonne Strahovski teased that there would be conflict between Sarah and Chuck before the end. I guess this event is what will lead to said conflict.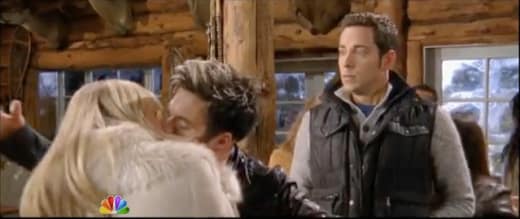 Could anyone in their right mind blame Sarah for the decision she made? It was either download the intersect, or allow herself and Casey to die by the guns of yet another uber-villain out to get the intersect himself. She had to do it. Her already super spy skills combined with the intersect kung fu made it a breeze to get away from the dozen henchmen with guns pointing straight at her.
The question remains, how will THIS intersect affect Sarah. They all work in different ways, so this one might not necessarily do to Sarah what the last one did to Morgan. With only three episodes remaining in the series, I don't think it's going to take her as long as it did Morgan to make a decision about it.
Before Sarah and Casey got themselves into such a precarious situation, Jeff and Lester did their best to figure out what the heck their friends have been up to all these years. And every time Casey knocked them out and erased their memories, The Band's "The Weight" came through the speakers and it was bliss.
There are very few songs that you can play four times in a single episode of television, and it not be annoying. Tonight proved that "The Weight" is one of them.
I have to give props to Jeff and Lester for continuing to get smarter as this final season comes to a close, and it sure was fun watching them put the pieces together time and time again. It's a shame that Casey and company finally outsmarted them by writing "They are 'not' spies" on Jeff's arm. One question: When they awoke for the final time, and were greeted by Big Mike's Fresh Fit meal from Subway, where were they heading? Vegas? Or Vecas?
The main mission in "Chuck vs. Bo" was a complete success, mostly due to the fact that it brought back the hilarious frosted tips. Let's talk about hairstyle as we see how the Chuck Triple Threat worked out this week...
Comedy
Sarah saying "bad guyery.
How quickly Morgan got hypnotized.
Casey getting excited when hearing Reagan used Carmichael Industries' potential office space, and calling him the gipper.
Everything related to Sarah, Chuck, and his boyhood crush on Bo Derek.
Casey hates Twitter.
Intersect Jerk Morgan screaming out at the top of his lungs "Who wants to party with the freaking intersect?!?!"
Action
There were a few great action scenes. Frosted tips Morgan fighting off Bo Derek and other bad guys in his underpants was nice. The standoff and ensuing firefight in the Buy More was better. The shootout at the docks was awesome. And Sarah putting on the shades and becoming the best fighter in the world was absolutely fantastic.
In regards to the shootout, though, wasn't that a bit too risky of a move to start shooting there? Sarah was surrounded by about a dozen dudes with machine guns and Casey opens up fire? That's crazy AND stupid. It worked for them, though, and bought enough time for Sarah to put on the shades and save the day.
Heart
There wasn't all that much time for heartfelt moments this week, but Casey screaming at Sarah to not put the shades on was enough for me. How much this guy has grown to care for Sarah, Chuck, Morgan and company is so enjoyable to see at this point in the series.
Moving Forward
I guess the nerds were right. You never want to say "one last mission." It was that, and letting the bad guy get away, that jinxed this group. Now Quinn is still on the loose, Chuck is captured, and Sarah has the intersect. Can she just get rid of it easily? I can't remember how Morgan got rid of his. Will intersect Sarah even want to get Chuck back?
Before giving it up to you all for comments, take a look at an excerpt from the Vail paper about Morgan's break-in.
"Frosted Tip-Toer" Breaks Into Buy More, Steals Nothing
- Footage shows at 12:47 am, a man wearing a well-fitting woman's ski coat and a pair of boxer shorts entered and exited the front doors of the Vail Buy More. The man's most distinctive feature, though, was the bleached -- or "frosted" -- tips of his hair.
That is good stuff. So what did you all think? How would you rate Bo Derek as a spy? Maybe a 10? What do you think Sarah will be like with the intersect? And are these guys ever going to be able to get out of the spy world? Sound off in the comments!
Dan Forcella is a TV Fanatic Staff Writer. Follow him on Twitter.