It was teased back in September that Sarah Walker's mom would be introduced in the final season of Chuck. Over three months later, Momma W finally showed up, played by the wonderful Cheryl Ladd in "Chuck Versus the Baby," and helped produce what was one of the most emotionally rewarding episodes of the series.
Although she came to Chuck Bartowski, as well as the audience, with a hard candy shell, it didn't take long for both parties to figure out that Sarah Walker had a softer side. While Sarah's father wasn't all bad all the time, it was obvious that Jack Burton was not responsible for the giant heart Sarah has proven to have over the past four years.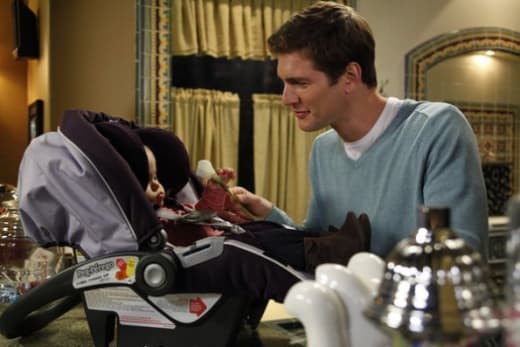 Cue Cheryl Ladd and a baby. There were so many heartfelt moments between Sarah and those two that it is difficult to wait until the Heart section of the Chuck Triple Threat to comment on them. Between her inherent need to help the baby, wanting the kid to have all of the normal things she never did, and the pair of reunions after five years apart, Yvonne Strahovski and Ladd knocked it out of the park together.
All of the emotional moments dealing with Sarah's life, combined with a solid stand alone mission, Morgan and the Awesomes playing games in Castle, and a couple of additional guest stars in Tim DeKay and the return of Tony Todd, made "Chuck vs. the Baby" even better than last week's highly regarded "Santa Suit."
Before taking a look at where Chuck has to go in the final three episodes before the two-hour finale, get your white and purple roller skates out of the closet, and talk about this week's Chuck Triple Threat...
Comedy
As great as this episode was, it was a bit lacking in the laughs. Zach Levi provided a few one-offs, highlighted by Chuck thinking he was going to get game chairs in the living room and wondering if it was important to know how Ryker takes his coffee.
There was also the entirety of Morgan's rambling during The Game of Life on the comedy side of things. Both his astonishment that Alex only had one person in her pink car while he had a vehicle full of children, and his thinking that a game of Sorry would work as an apology, brought huge smiles to my face.
Per usual, Captain Awesome added a number of hysterical moments, which included the return of his Abercrombie and Fitch ads and the fact that he has no idea what a British accent sounds like.
Action
I don't know if any action sequence this season - or any season - can compete with what Sarah Walker did to start "The Baby." Watching her take out all of those dudes at the long table was reminiscent of a number action movies, while strapping the baby to her chest and firing multiple machine guns was something I never thought I'd see our sweet Sarah do. It was ridiculously awesome, though.
A number of fights were left until later as well, as Chuck and Casey saved Sarah from Ryker's interrogation, and Sarah disguised herself as Momma W and took her former handler out in the kitchen. It was a pretty powerful episode for our favorite ex-Orange Orange employee.
Heart
It takes every inch of me not to repeat how great the aforementioned emotional Sarah moments were... so I won't. They were fantastic! But this episode also gave us some Chuck heart in which he didn't deserve to be slapped. That is not always the case. Wanting to get a house with Sarah was great, giving up on that goal so that Sarah didn't have to re-join the CIA, was even better.
When you add the fact that Alex and Morgan got back together thanks to the pep talks by Awesome and Ellie, and it really did hit on almost every emotional point of the series. The only one missing out here was John Casey, but he'll get another turn.
Moving Forward
Sarah gave up all of the normal things in life, and had to leave her mother and the baby for five years, because of her gig with the CIA. It was insanely refreshing to see her so strictly turn down the offer to jump back into that life now that she has all of these great people around her.
Thank God for that! With only five hours left in the history of Chuck, it would have been very upsetting if they went right back to where they were before this season started. Let's keep moving forward until it all comes to an end on January 27th.
The questions still remain, though. Where are these characters going to end up when it is all said and done? How are they going to get there? And is this giant make-shift family going to be able to stay together as a unit?
I can't wait to find out. What about all of you, TV Fanatics? What did you think of "Chuck vs. the Baby?" What do you hope to see happen next week? And what do you expect to see from the Chuck series finale?
Dan Forcella is a TV Fanatic Staff Writer. Follow him on Twitter.