Welcome to the latest edition of The Vampire Diaries Round Table!
What's there to even say about this week's incredible, revealing, shocking episode of best new show on TV? Fans can think of many topics to touch on in our Vampire Diaries forum, and we can do the same below...
Was this the best episode of the season?
M.L. House: Yes. What was it missing? A fascinating flashback: check! Major character development: check! A significant death: check! A cliffhanger of an ending: check! Stefan and Damon shirtless in a scene: check (and hubba, hubba!)
LJ Gibbs: Definitely top three if not the consensus best. Last night was almost Lost-esque in its use of compelling flashbacks to reveal new components of present-day characters. Damon's bitterness toward Stefan was never truly explained, as he's too multilayered to be dismissed as merely evil. His vow to inflict an eternity of misery on his brother and admission that he was jealous Katherine turned Stefan too made for amazing scenes.
The Barnacle: Yes, and here's why: as of this writing, 48 readers had voted on M.L. House's review (great work, buddy!) and all 48 gave it a perfect rating. Power to the people.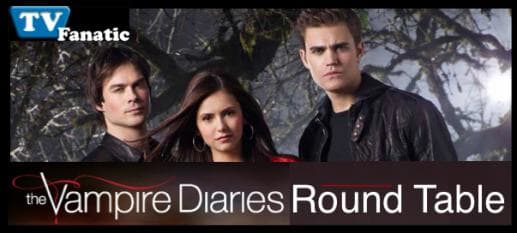 More startling revelation: That Stefan fed on his father, or that Stefan forced Damon to transition?
M.L. House: The fatherly meal. I'm not too ashamed to admit what I said to my wife as Stefan opened up his dad's wound: "He's going back for more!" My jaw still hurts from hitting the floor during that scene.
LJ Gibbs: Both were startlingly awesome - who would have guessed Stefan was the driving force behind the "bad" brother transitioning? - but feeding on his own, dying dad was more shocking. Definitely not something we saw coming, nor something easy to pry your jaw off the ground after. Great television, especially with the moral gray area of whether he was also responsible for his father's death in a way.
The Barnacle: The role Stefan played in turning Damon. With one piece of information, everything about this relationship was explained. Presto! That's what we in the TV business call a "game changer," folks.
Who did you miss more: Caroline or Bonnie?
M.L. House: Bonnie. I'm anxious to see the next step in her makeover.
LJ Gibbs: Caroline, although Bonnie made me think about it with that new haircut.
The Barnacle: Tyler. Can we please get more about his werewolf tendencies before the season is complete?!?
Will Stefan relapse?
M.L. House: Yes. Look, there's no Blood-aholic Anonymous. Elena may try to understand, but she'll never be able to relate to what Stefan goes through on a daily basis.
LJ Gibbs: If I were a betting man, I'd say no ... but you're going to think about it all the time now, right? What a great twist that was, Stefan falling off the wagon. Now that we know the full story of his transition, and have seen him fall victim to this innate vampire urge, it'll never be far from our minds what he's capable of, and the character will forever keep us guessing as he fights the urge.
The Barnacle: No. He has the love of a good woman. That's all you need in life.
Eulogize Pearl.
M.L. House: You raised a strong, big-hearted, kinda cute daughter. That's all you can ask for as a mother. Rest in as much peace as possible for a vampire.
LJ Gibbs: Pearl. It was nice knowing you. They could've done more with your character. Hope you enjoyed Mystic Falls' finest stake sandwich. [wait for old car horn sound] Sincerely, L.J. Gibbs.
The Barnacle: You left us too soon, just as you were starting to settle down. Uncle John did the deed, as he has evil plans for your town. But rest easy, up in vampire heaven. Mystic Falls has a savior - and his name is Stefan.
Seriously, what the heck is Uncle John up to?
M.L. House: Hmmm... he killed Pearl and will place the blame on another vampire. He's trying to make it look like there's an all-out civil war among these blood suckers in the region. Maybe he'll use that to get the law to look more closely at Damon; then blackmail him for that invention. Not that I have a clue what it does.
LJ Gibbs: I don't know, but if I were a vampire, I'd buy some metal body armor.
The Barnacle: His neck in trouble with the Salvatores, if you know what I mean!
Matt Richenthal is the Editor in Chief of TV Fanatic. Follow him on Twitter and on Google+.