Thank you for joining us for this edition of The Vampire Diaries Round Table!
While we're despondent over the six-week wait for a new episode of this great show, "Fool Me Once" at least gave fans plenty of surprises and developments to chew on.
A trio of staff members has gathered below to do just that. We encourage fans to do the same in our Vampire Diaries forum and to provide feedback in the Comments section on the topics here...
Were you upset that Katherine was not in the tomb?
M.L. House: No, as this is a great storyline to keep around and return to often. However, I do fear the show will keep thinking of new, possibly contrived ways to keep Damon and Katherine apart. It has to abandon this arc now, which I hope doesn't happen - or ensure the next time Damon tries to track Katherine down, he succeeds.
LJ Gibbs: Very much so. The show was building up to this moment and then... nothing. Made the focus on the tomb feel a bit pointless.
The Barnacle: I was... until the episode ended with that other vampire escaping. What the heck will he do next? I can't wait for March 25!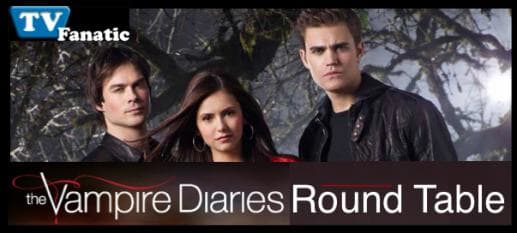 Pen a eulogy for Grams.
M.L. House: You protected your own, and seemed like a nice lady. May you now be resting in a vampire-free heaven, where the afterlife is far less shady. Amen.
LJ Gibbs: For putting Damon in his place, I salute you. Bonnie couldn't have asked for a better role model or grandmother.  Say hi to to Glinda the Good Witch of the North for me.
The Barnacle: No way. I refuse to believe she's dead until we see her funeral. I think Bonnie can bring her back.
Will we see Anna again?
M.L. House: I really hope so. She's a great character, as I'm always thrilled to welcome a layered villain to any series I watch. It was great to see the calmness and relief set in on this previously-angry individual after she rescued her mom. That's all she really cared about.
LJ Gibbs: Absolutely. She knows a lot about Katherine and I can't imagine Damon will really let that issue drop.
The Barnacle: No. The show only has room for so many vampires and we met another new one at the very end of the episode. Anna served her purpose very well, though, and I'll miss her.
How do you prefer your Damon Salvatore: Menacing or in mourning?
M.L. House: Why choose? The beauty of Ian Somerhalder's performance is that he can pull off sarcastic, scary and sad with equal aplumb.
LJ Gibbs: Menacing. I got chills when he told Stefan he hoped Elena would die and I can't get enough of his anger-twinged sarcasm.
The Barnacle: In mourning. He truly seemed like a different, defeated character by the end of the episode. I can't help but wonder how far Elena's sympathy will now go for him and what will happen next between these two.
Matt Richenthal is the Editor in Chief of TV Fanatic. Follow him on Twitter and on Google+.