There are never enough reality TV shows.
New unscripted drama ideas are always being developed by networks' top minds and brought to TV, to the delight of millions of Americans from coast to coast.
We've got plenty of favorites as is, but there is always room for one more. Or two or three. Here's a list of reality shows we'd like to see in the near future...
Pimp My Bride: Ludacris and Snoop Dogg show grooms how to walk down the ai-zzile with the true woman of their dreams. Yo.
Runway Project: Engineers compete to build the best airplane landing strip.
So Much Bush: A reality show offering rare insight into the mind of George W. Bush as he makes tough budgetary and diplomatic decisions... paying for First Daughter Jenna Bush's wedding, for instance. The first President Bush, other First Daughter Barbara Bush, First Lady Laura Bush and other relatives are there to inject drama, humor and foreign policy experience to a star-studded cast.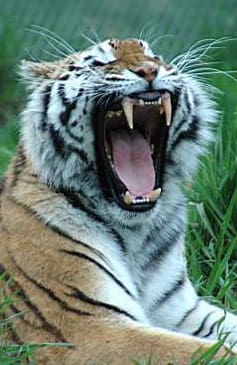 Is Christian Siriano fierce enough to handle this?
Really Fierce: Locked in a cage with no weapons, Christian Siriano must battle to survive against wolverines, bears, Siberian tigers and other fearsome critters.
Logan Knows Best: The day-to-day life of X-Men character Wolverine!
31 Flavors of Love: A hidden camera records customers at Baskin Robbins as they sample various ice cream flavors, some of which may be dangerously tasty.
The Amazing Chace: Follow Gossip Girl star Chace Crawford on and off the set of his hit CW series. Guest starring sister Candice!
Alligator Alley: One minute. One competitor. One Alley. Thirty alligators.
Maybe a Midget: Thirty tall women are asked to vie for the love of one man,
who may or may not be a midget.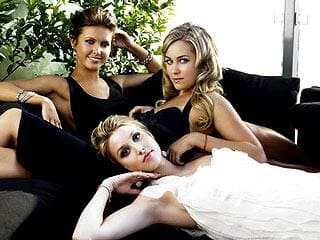 The Hills rules, but isn't it time for Audrina and Whitney spin-offs?
The Underworld: A racy spin-off of The Hills centering on Audrina Patridge as she ditches LC and pursues the adult film career you know is coming.
The Agency: Another spin-off of The Hills, only not XXX-rated, and starring Whitney Port as she continues her career in the cutthroat fashion biz.
Beauty and the Geek: The daily interactions of engaged couple Megan Fox and Brian Austin Green. Or, you know, other similar pairings.
The Man-Slut: Andy Baldwin, Matt Grant, Lorenzo Borghese, Byron Velvick and other former stars of The Bachelor compete to see who can shag the most chicks in the span of one week. Many tearful female confessionals follow.
Editor-in-Chief: A riveting, unscripted drama taking viewers behind the scenes of a school newspaper as youngsters vie for the top position. Oh, wait, MTV is already doing this and it's called The Paper? Man, all our best ideas get taken.
And the very best, saved for last ...
So You Think You've Got Pants: Blindfolded paraplegics must determine, through a series of questions, if they are, in fact, wearing pants.
Matt Richenthal is the Editor in Chief of TV Fanatic. Follow him on Twitter and on Google+.