The Umbrella Academy Official Trailer: When It Rains, It Pours
Carissa Pavlica at .
Netflix may not be renewing a lot of their traditional superheroes, but that doesn't mean the genre is dead on the site.
Not by a longshot!
We've already gotten a glimpse of The Umbrella Academy by way of the official teaser, but that was nothing but child's play. Things are only going up with this official look at the series from Gerard Way and Gabriel Bá,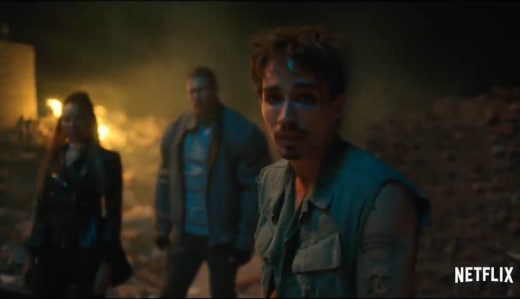 Not being familiar with Way's comic series (but certainly with his music from My Chemical Romance), even The Umbrella Academy teaser didn't have me completely convinced I was all in for the series.
That's even knowing one of my all-time favorite people, Robert Sheehan, would be shining bright alongside Ellen Page, Mary J. Blige, Cameron Britton, Tom Hopper, David Castañeda, Emmy Raver-Lampman, Aidan Gallagher, Colm Feore, Adam Godley, John Magaro, Ashley Madekwe, and Kate Walsh. 
Related: The Umbrella Academy Official Teaser
Whew. Breathe. What. A. Cast.
But now? This trailer makes The Umbrella Academy a top priority for 2019.
Here's the official synopsis for The Umbrella Academy, in case you missed it: On the same day in 1989, forty-three infants are inexplicably born to random, unconnected women who showed no signs of pregnancy the day before.
Seven are adopted by a billionaire who creates The Umbrella Academy and prepares his "children" to save the world. Now, the six surviving members reunite upon the news of their father's passing and must work together to solve a mystery surrounding his death.
But the estranged family begins to come apart due to their divergent personalities and abilities, not to mention the imminent threat of a global apocalypse.
If you watched the initial teaser, you recall the use of Tiffany's "I Think I'm Alone Now," from 1989. 
The music accompanying the official trailer is equally as enthusiastic and has an even more personal touch.
Related: The Punisher Season 2 Trailer - An Old Villain Returns
It's a cover of "Hazy Shade of Winter" (one of my all-time favorite songs, thankyouverymuch) from Way himself. 
Get ready to rock because this one is going to knock your socks off! 
The Umbrella Academy premieres February 15 on Netflix!!