The Son Sneak Peek: A Secret Speakeasy!

Lisa Babick at .
While Pete is protecting the ranch, Sally is with Jonas in Austin where he is recovering from being shot.
Austin is the place of Sally's dreams. She never thought she'd be living on the ranch forever. Austin is the place she'd rather be, but Pete will never leave the ranch. He's too tied into it and to duty to Eli.
But Sally is smart and she just may get her way if she plays her cards right. Could Pete give up the ranch and join his brother in Austin? Would he sacrifice duty to make his wife happy?
Maybe the real reason he doesn't want to leave the ranch has nothing to do with the ranch at all. Maybe he doesn't want to leave Maria.
Does Sally even have a clue?
At this point, she probably doesn't even care because she's having too much fun in Austin.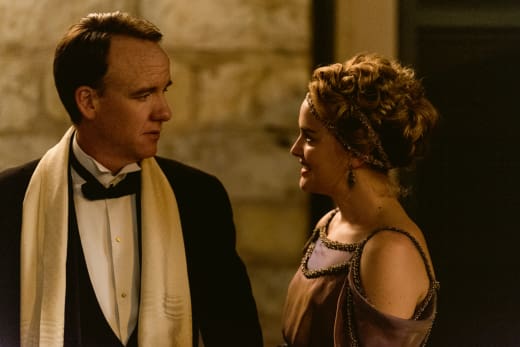 In this exclusive clip from The Son Season 1 Episode 7, Sally and Phineas go out to dinner but Sally doesn't want the night to end. 
She asks Phineas to take her to one of the speakeasy bars he frequents. At first, she's all excited then she's in for a big surprise. 
Was it what she expected?
Check it out now and be sure to tune in when "Marriage Bond" airs Saturday, May 13 at 9/8c on AMC!
If you need to catch up, you can watch The Son online right here via TV Fanatic!