The Resident Promo: Justice for Nic!

Jasmine Blu at . Updated at .
Resident Fanatics are still reeling from that explosive hour that left everyone speechless. 
Dr. Lane Hunter has been the antagonistic dark horse of the series. The depths of her deception, greed, and callousness have been explored here and there throughout the season. 
However, no one was prepared for the lengths she would go to get Nic off of her back. 
On The Resident Season 1 Episode 9, Lane did the unthinkable. Not only did she arrange for beloved cancer patient Lily to be murdered, but she made sure that Nic would be the unintentional executioner. 
Related: The Resident Review: She Must Be Stopped!!
Lane's oncological study has been a source of controversy and tension that has consumed most of Nic's time throughout the season. Nic refused to let it go. 
Nic has been consistent and diligent when it came to investigating Lane, and she didn't hide it from anyone.
She enlisted the help of Devon who was reluctant at first but eventually was convinced after his own experiences. 
Related: The Resident Review: No Matter the Cost
Devon arranged for his fiancee, Priya, to look into Lane's other patients so that they could better understand what was at stake. 
Nic has been closing in on Lane, and Lane has been trying to throw her off the entire time, but it hasn't done much.
Lane resorted to threatening Nic. In fact, Lane didn't consider it a threat; she considered it a promise. 
Related: Get Shudder via Amazon Channels for Spine-Tingling & Provocative Films, TV Series, & Originals! 
Lane promised to ruin Nic and destroy her career if she kept digging, and from the looks of The Resident Season 1 Episode 10, Lane is making good on that promise. 
Conrad has been reluctant to turn on his mentor so quickly, but he made a turnaround. Now, he's fully onboard with taking Lane down because Lane has come after the love of his life.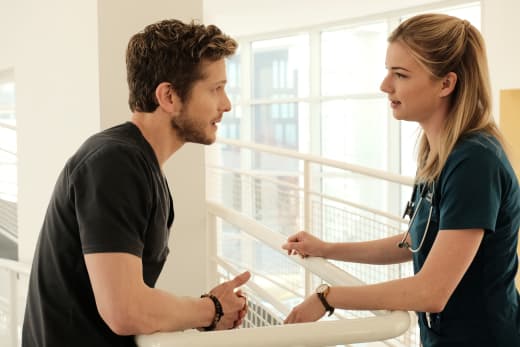 He may even join forces with the likes of Bell to achieve this mission. 
Meanwhile, Nic has not only lost her job but from the looks of it, she may find herself in prison, too! 
Don't believe us? Check out the promo below! 
The Resident will return April 16. In the meantime, you can watch The Resident online at TV Fanatic anytime to hold you over.