The Resident Promo: A Story of Revenge!

Jasmine Blu at .
This is a story(line) of revenge and justice as far as Nic is concerned. 
On The Resident Season 1 Episode 12, Nic has plenty of time on her hands after the devious duo Bellane cost her the job, but she plans on putting it to good use.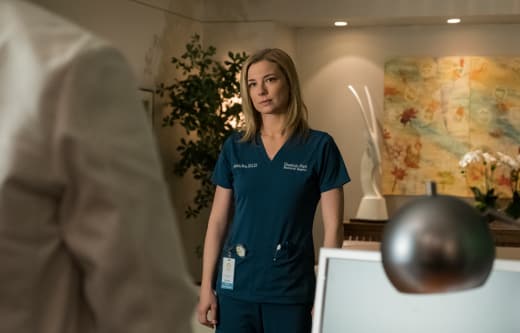 By the end of The Resident Season 1 Episode 11, Nic discovered just how far Lane would go to cover her tracks. That included deliberately murdering one of the most beloved patients at the entire hospital. 
Nic figured out the truth too late, but it won't stop her from doubling down on her Lane investigation. It's more personal than ever.
Lane herself is impressed by the gumption and drive Nic is displaying. 
Related: The Resident Season 1 Episode 11 Review: And the Nurses Get Screwed
Lane is overconfident, and she is certainly underestimating Nic right now. Nic may be able to use that to her advantage. 
Nic may track down someone who can help, but he's delivering an ominous message in the promo that 's enough to give you chills.
Nic is going to some dark places to find out the truth about Lane.
Conrad wants to help by any means that he can, but Nic is determined to do everything herself from the looks of it. 
Related: The Resident Season 1 Episode 10 Review: Haunted
There also seems to be a blacklist in effect, and Nic is on it.
Is Lane preventing Nic from finding a job elsewhere?
It's also possible that she is preventing Nic from accessing her clinic again. It's hard to say. 
Related: The Resident Season 1 Episode 9 Review: Lost Love
The most jarring part of the clip, however, is that seemingly deadly crash! 
There's still time to catch up on the tantalizing season, you can watch The Resident online here via TV Fanatic! 
Check out the promo below and hit the comments!