The Resident Fall Finale Promo: Love, Death, and Betrayal?!

Jasmine Blu at . Updated at .
The second season of The Resident is proof that the series found its groove and ran with it. 
It has been an incredible first half of the season, and it built up to what it is sure to be a heart-pounding midseason finale that will leave us on the edge of our seats and frantically counting down the days until the series returns. 
Everything will come to a head on The Resident Season 2 Episode 9.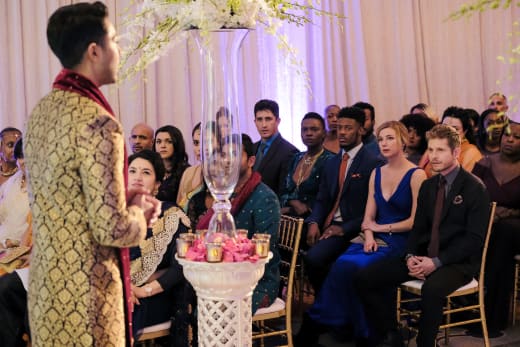 Love
Devon's wedding day has arrived, but everything leading up to it has had fans and perhaps even Devon and Priya wondering if they'll ever make it down the aisle. 
The wedding planning has not been a highlight of their relationship for either partner, especially Devon, who has thrown himself into work and a questionable friendship with new medical sales representative Julian. 
Related: The Resident Season 2 Episode 8 Review: Heart in A Box
Devon's flirtation with Julian has been building all season, and the sexual tension reached a boiling point when the two of them shared a steamy kiss before convincing themselves that they could move on as if nothing happened.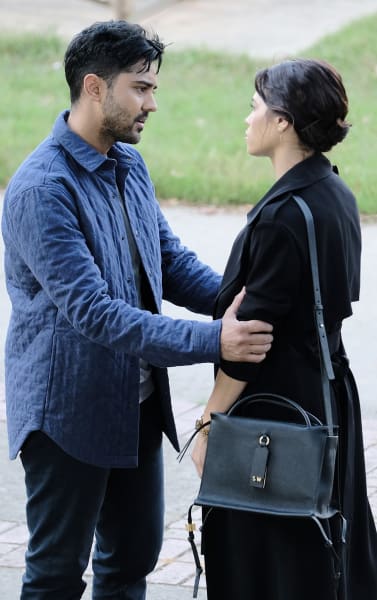 The unfortunate thing is that they haven't pulled back on their friendship and others have started to take notice as well. Conrad, Nic, and especially Mina have observed the flirty behavior between the two, and at some point, they have shown genuine concern. 
On top of everything else, Devon's relationship with Priya has taken a few hits. Priya approached him with a proposal to move across the country for a job opportunity, and then she suggested that he move along with her. 
There was no way in hell Devon would ever leave Chastain, and he said as much when he told his fiancee his decision.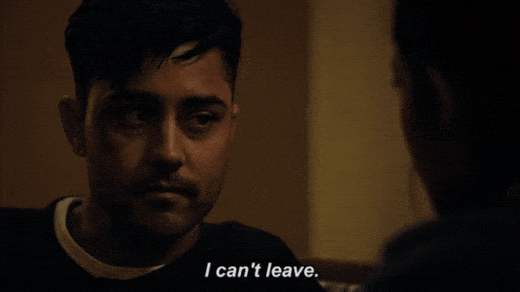 Priya is determined to leave Atlanta for San Franciso with or without Devon. How can these newlyweds begin their marriage miles apart and on other sides of the country? A long-distance marriage seems unfathomable in their situation. 
Will there even be a wedding by the end of the finale?! 
Related: New Amsterdam Season 1 Episode 8 Review: Three Dots 
Meanwhile, the budding relationship with romantic undertones between Mina and AJ has been irresistible and the ultimate slow-burn.
On The Resident Season 2 Episode 8, AJ admitted to Nic that he does have feelings for Mina, but he's not afraid to wait it out.
If you didn't love and respect the guy before all of that, his reverence for Mina and respect for her emotional growth and current relationship sealed the deal.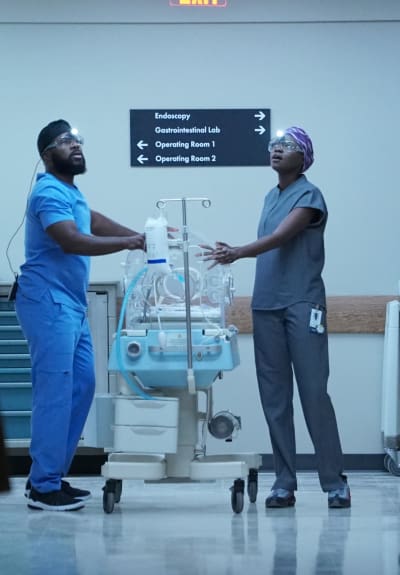 Mina and Micah are a sweet couple, and through their romance, we have seen a softer, more vulnerable side of Mina that she keeps carefully hidden behind a tough-as-nails exterior. The layers peeled back on this complex character has been one of many highlights of the season. 
Micah's deteriorating health has been ominous, however. There is a real fear that Micah won't make it out of the midseason finale let alone the season alive. Given the recent tidbits about Mina's past that we have learned, this would devastate her beyond repair. 
All of her friends will be there for her, but AJ may get a chance to step up given his knack for discerning Mina's needs. 
Death
It wouldn't be a midseason finale without someone's life hanging in the balance, and while Micah is a strong contender, Marshall is the strongest.
Conrad and Nic are cozier than ever, and they have found a nice rhythm in their relationship, but there have been subtle hints that have fans wondering if there is trouble on the horizon for the beloved CoNic.
Conrad is committed to their relationship, but Nic has expressed doubts along the way, and her ponderings of love and recalling their past has been curious.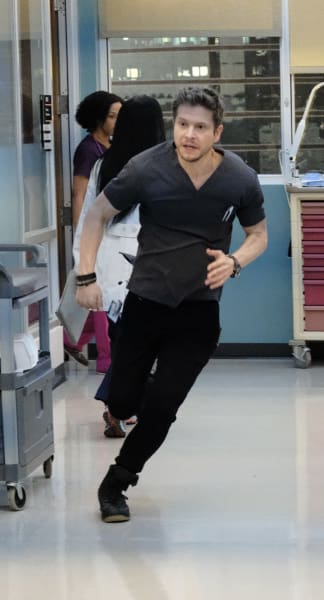 Conrad has also shown signs that he may be burning out a bit, and Nic has been tending to him and supporting him in beautiful ways, but Marshall's potential fate may be the most challenging. 
-Related: Get Shudder via Prime Video Channels for Spine-Tingling & Provocative Films, TV Series, & Originals! -
She's pushing Conrad to be there for his father when something happens to him, but Conrad has wavered back and forth with how close he wants to be with Marshall.
Marshall has put forth a few efforts to help his son, some without his son knowing it, but there has also been something suspect about Marshall's motivations. 
Conrad has known that his father is hiding something from him, and as most fans theorized, it appears to be a medical condition. Marshall must be sick, and based on the promo where he's lying on an operating table, it must be serious.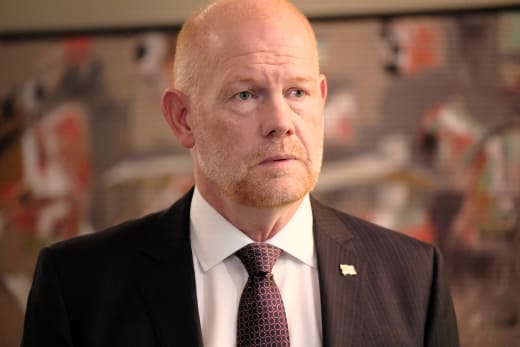 Is it possible he was trying to make things right with his son before he died? Do you think Marshall may die in the Fall finale?! Also, will that be what pushes Conrad over the edge? 
You know who is also a contender for death? Julian! 
Betrayal
Gordon and QuoVadis are the thorns in Chastain's side, and they have been that way all season. Bell doesn't see it yet, but Conrad has suspected it all along. 
Always bet on black, and always trust  Conrad Hawkins' gut. 
QuoVadis and their medical devices have invaded every aspect of the hospital, and Julian has been pushing for their use as a good little foot soldier does. However, she was blind to her bosses shady ways this whole time. 
Julian saw the company she worked for as live savers, and it earned her trust when their tech helped her with her hip, but she has discovered that the company isn't as it seems. 
QuoVadis is another greedy, deceitful operation that is committing fraud. Their products are made in China rather than by the company. Everything Gordon has told her has been a lie.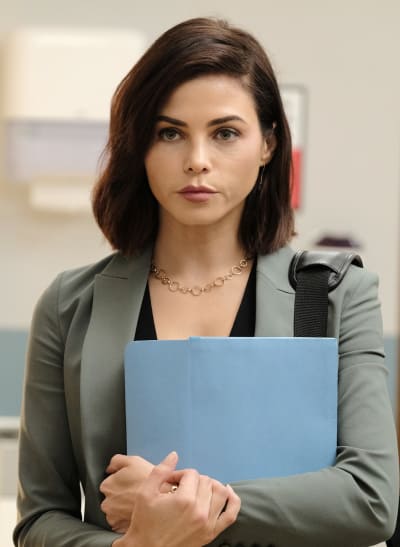 Julian is another character whose motivations have been murky, and she makes questionable decisions, but can we trust that she'll do the right thing and blow the whistle on QuoVadis? 
Related: 9-1-1 Season 2 Episode 8 Review: Buck Actually 
In the promo, it looks as though she confronts Gordon, and it doesn't go over well. Gordon is a powerful man, and he's not above doing horrible things. Will he take her out before she can expose him?
Gordon accuses her of betraying him, but he's betraying the world with his misdeeds. 
Fasten your seatbelts, Resident Fanatics! This finale will be a hell of a ride! 
You can watch The Resident online here via TV Fanatic if you want to rewatch before the finale. You can also check out our The Resident Reviews. 
Check out the promo below and hit the comments!