The Originals Promo: Will Evil Elijah Ruin Hayley's Funeral?
Paul Dailly at .
Elijah Mikaelson as we know him is gone. 
On The Originals Season 5 Episode 7, he will continue to work against his family, and that gives Greta's family the opportunity to boast about having an original vampire working with them. 
But Klaus is willing to make the streets of New Orleans rain blood once again to get his point across that everyone who had a hand in Hayley's death will be meeting a grisly end.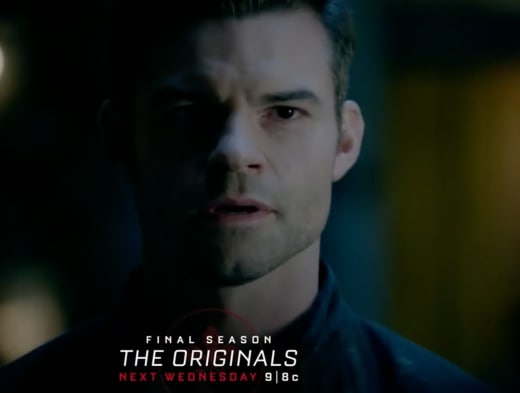 Just when it seems like things could be slowing down to give the family time to grieve the loss of their loved one, Greta's vampires opt to invade Hayley's funeral.
Yeah, that's not going to go down well, especially when you consider the fact that thanks to the Hollow, not everyone can even attend he funeral. 
Related: The Originals Season 5 Episode 6 Review: What, Will, I, Have, Left
There are going to be a lot of mixed emotions, and Hope will likely be feeling somewhat responsible for trusting Roman without knowing enough about him. 
It's a sad situation for everyone involved, but something tells me Roman may move over to the good side because he was fooled by Greta throughout the whole thing. 
There's also no telling what Antoinette is up to. Will she continue the work her mother started, or will she bring an end to it?
We have no idea, but we'll need to tune in when the episode airs next Wednesday at 8/7c to find out how it all plays out. 
Remember you can watch The Originals online right here via TV Fanatic. Get caught up with all the drama right now. 
Watch the full trailer below!