The Fosters Winter Premiere Promo: Will Callie Find Her Way Back to AJ?!

Jasmine Blu at .
The wait is over, and the second half of The Fosters Season 5 will be coming at you fast.
The winter premiere will pick up where The Fosters Season 5 Episode 9 left off with Callie, Ximena, and AJ held up in Noah's church with ICE waiting for them. Will Ximena be detained or worst yet, deported?
We catch a glimpse of her lying down somewhere crying, and we also see she and Callie holding hands in a moment of comfort. Does that mean she got out of the ordeal okay?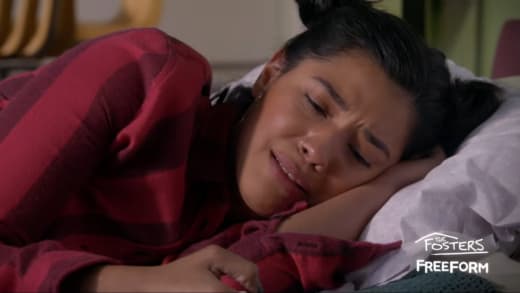 It looks like Callie called in the big guns, Stef, and she confides in her about the rash choice of seeking sanctuary in the church. She confesses that she panicked. 
There is no telling how the gang will manage to de-escalate the situation and get out of there. As Ximena mentions, if she walks out of that building, she can be detained.
Mariana has really taken to the activism, as she rallies the troops encouraging her friends and peers to embrace diversity and all of their differences. 
It appears that she and Mat may rekindle their relationship, as they look pretty darn flirty. Wyatt probably won't be popping up again anytime soon, but Logan is still there, and despite his girlfriend, he and Mariana do have chemistry.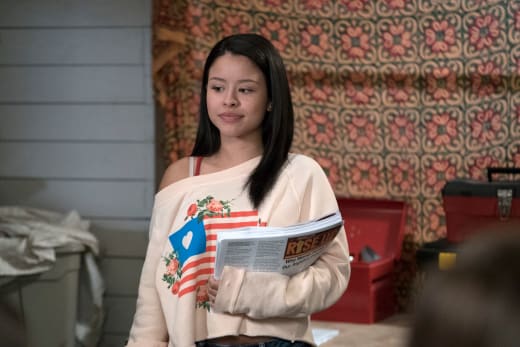 Then, of course, there is Nick, who sent that cryptic text message to Mariana about helping her save the school. He was a troubled young man, but could he be angling for a way back into Mariana's heart?
Jesus has had a difficult time suffering terribly from his TBI, but his loved ones have had a difficult time coping with it as well. He has lashed out more than a few times during the first half of the season, but he has become more aware of how much his TBI and the side-effects of it have affected his judgment and the way he communicates with the others.
Noah Centineo's performance has been noteworthy for this particular storyline, and it doesn't appear to be slowing down. When faced with the inevitable feelings of inadequacy as a result of his condition, Jesus is comforted by his moms.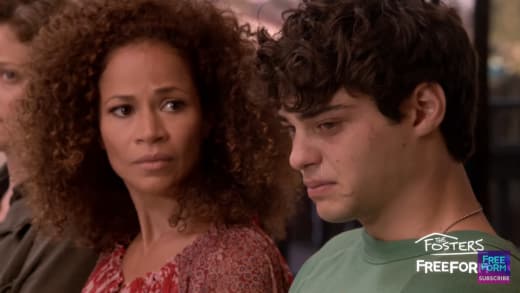 The kids can always count on Lena to say just the right thing to comfort them. "Honey, you're not broken, and I promise you that we're going to stop making you feel that way." Are you crying yet? 
If not, tears and Jesus in a Mom sandwich might do the trick.
The Fosters loves a good love triangle, and I hate to break it to you, but that's where we are with Callie, Aaron, and AJ. 
Callie and Aaron's relationship was not in a good place after a nasty exchange of words during prom, and Callie took off with AJ to help Ximena.
Callie and AJ shippers might be squealing over the brief moment in the promo where Callie explains to him why she and Aaron were fighting. "You. It's always you."
Are you excited, Foster Fanatics?! All the feelings will be coming at you fast. 
The Fosters Season 5 Episode 10 will premiere January. 9 at 8/7c on Freeform. 
There's' still time to catch up or refresh your memory. You can watch The Fosters online right here via TV Fanatic!
Check out the promo for the winter premiere below, and hit the comments with your thoughts!