Sweetbitter: The Leading Ladies on Character, Place, and Style
Carissa Pavlica at .
Sweetbitter creator and executive producer Stephanie Danler feels like she's just a hired expert on the topic now that she's seen her project come to life.
In the interview below, she talks about the process of portraying everything just right for an on-screen five-star restaurant, including putting her cast and crew through a boot camp getting them up to speed.
Purnell plays Tess, a young woman with dreams of life in the Big City.
When she gets to New York with few skills applicable to jobs for which she applies, she's given a break by a man more interested in her personality and how well she'll train than what she has already accomplished.
Related: Get Starz via Prime Video Channels for Captivating Original Series & Hit Movies!
That brings Tess into the same circle as Fitzgerald's Simone, who appears to be everything Tess aspires to be herself.
Thus begins a complex relationship between the two women at different stages in their lives, giving both Purnell and Fitzgerald the opportunity to showcase their talents at their most captivating. While there are surely men in the picture, it's the women in Sweetbitter across the board who steal the show.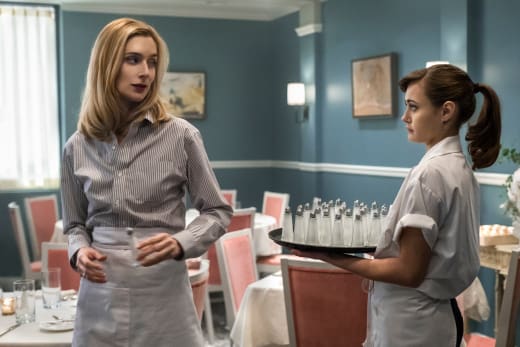 Find out in the interview below who was the best and who was the worst when it came to playing restaurant, how much of Danler's real life crept into her script and more. 
Most of all, be sure to tune into Sweetbitter when it premieres on Starz Sunday, May 6 at 8/7c.