S.W.A.T First Look: Black or Blue? They Don't Pick Sides

Carissa Pavlica at .
Shemar Moore stars in an intense police drama inspired by the hit television show and movie of the same name.
Los Angeles S.W.A.T. lieutenant Daniel "Hondo" Harrelson is assigned to lead a highly skilled unit in the community where he grew up.
Torn between loyalty to the streets where the cops are sometimes the enemy, and allegiance to his brothers in blue, he strategically straddles these two worlds.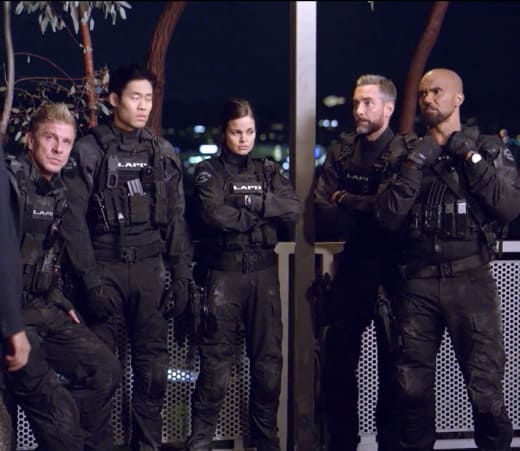 Hondo encourages his team to rely on communication and respect over force and aggression, but when a crisis erupts, these unflinching men and women are prepared to put their tactical training to the test.
Jay Harrington, Stephanie Sigman, Alex Russell, Lina Esco, Kenny Johnson and Peter Onorati also star in this upcoming series that is clearly tuned into the current political climate.
While it could have just focused on the excitement being on a S.W.A.T. team brings to the table, instead, it's going a lot deeper with the storyline and digging into the rift that has been created between minority neighborhoods and law enforcement.
Shemar Moore and his electric smile are hard to resist, but when he puts on that uniform, he becomes one of them. 
As S.W.A.T. leader, he'll be tasked with bringing two sides of a dangerous conversation together. If anyone can do it, we have faith in a character wearing a Shemar Suit.
I'm also super excited to see Jay Harrington and Kenny Johnson as part of the team and look forward to getting to know better all of the other actors with whom I'm not as familiar.
This has the makings of a big hit, and CBS has a lot of faith in it for it to air on Thursday nights at 10pm.
Will you be watching? If you're not planning on tuning in, tell me why not in the comments below.
What might change your mind?