Supergirl Swaps Boots with Wonder Woman - Promo Magic is Made!
Carissa Pavlica at .
Have you ever thought about what it might look like if Supergirl tossed the girl aside and became all Woman?
Wonder Woman, that is?
Well, the very cute commercial below aired during Supergirl Season 2 Episode 22 in a bit of female solidarity.
Not only did Kara Zor-El try on the new boots, but she brought along all of her favorite gal pals for the experience, too!
In a not-so-subtle nod to my favorite Wonder Woman, Lynda Carter, who plays President Olivia Marsdin on The CW series, got to show her support for Gal Godot and her upcoming film being released on June 2nd.
Marsdin's footwear, though, only got a modest view. Were they even boots? Surely, given the song that was playing throughout.
"These Boots Were Made for Walkin'" was the theme of the commercial, and suited strong women very well.
It was former Lois Lane now Rhea's boots that got the second biggest view, though, as the villainess uncharacteristically complimented Kara on her ultra-cool boots.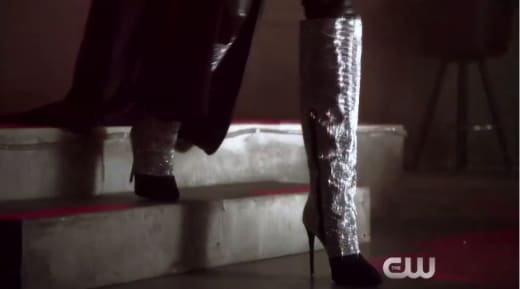 Don't worry, yes, Supergirl's sister Alex was also on the scene as Chyler Leigh took up residence next to the pool sporting a nifty pair of ankle boots.
And before it was all over, Kara thanked Rhea for her compliment by tossing her way Wonder Woman's signature pose. 
It's a really great promo spot you can see for yourself below.
There should be a lot more crossover promotion like you're going to experience below. 
I cannot wait until Wonder Woman throws shade at all of the most recent DC movies to emerge and leaves them in the dust. These boots are made for more than walking, you guys!