Joel McHale Videos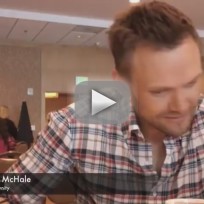 Added:
Displaying 1 video
Around the Web
Want more Community?
Sign up for our daily newsletter and receive the latest tv news delivered to your inbox for free!
Annie: When you found out I was Jewish, you invited me to a 'pool party' that turned out to be a Baptism.
Shirley: Well excuse me for trying to sneak you into Heaven.
It's called a Complisult. Part compliment, part insult. He invented them. I coined the term. See what I just did there? That was an explainabrag.

Britta