A new evil has risen from the depths of hell and this one is the mother of all problems. Prepare yourselves, Shadowhunters fans, this battle is only getting started.
Lilith, the dark figure we saw appear at the end of Shadowhunters Season 2 Episode 20, has flown her way out of hell to complete her mission. And, from the looks of her anger, she's not playing around.
In the new Shadowhunters Season 3 trailer below, Lilith reveals that she wants to bring her son, Sebastian (aka the real Jonathan Morgenstern), back from the dead.
We last saw Jonathan's corpse lying in that creepy cavern overlooked by the shadowy figure. His days looked numbered after dying on the beach, but we got a slight glimmer of hope that he could return.
In the first clip of the promo, Jonathan's body has been brought to a church for a "rebirth."
Will Lilith succeed in bringing her son back or will he stay dead? If you checked out our Shadowhunters reviews last season, you know my stance on the matter. (Yes, it's weird to want the villain back, but it's no secret I'm a fan of the character and Will Tudor during Shadowhunters Season 2.)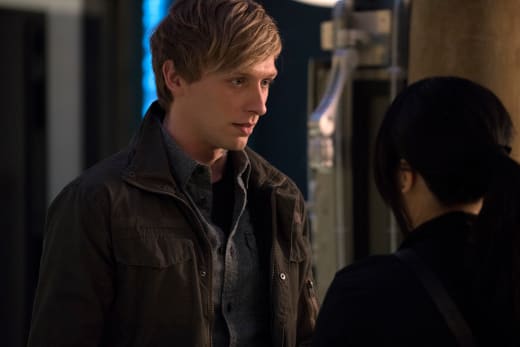 Lilith's arrival isn't only terrifying because of the prospect of resurrecting Sebastian; she's also a powerful demon. Magnus mentions in the trailer that Lilith is the "mother of all demons."
Lilith is a danger to the world and could cause a lot of damage in her pursuit of bringing her son back. if you're still unsure, just look at the Shadowhunters' and Downworlders' expressions; they're worried.
We see quick clips of Alec warning the others about the danger, as well as Magnus being knocked back into the air and Clary flexing her powers while being dragged. Are they fighting Lilith?
Though, that could be the tip of the iceberg for their battle. A large winged-demon roars in the park and we see Clary pushing herself away!
An important thing to note is the new premiere date of Shadowhunters Season 3. The original date had been set for April, but the date has moved up to March.
Shadowhunters Season 3 will premiere on Tuesday, March 20th on Freeform at 8/7c.
Check out the full trailer below and share your thoughts in the comments.
Don't forget, you can watch Shadowhunters online via TV Fanatic to get caught up on all past episodes.