Shadowhunters Stars Katherine McNamara and Emeraude Toubia Talk New Focus on Characters

Justin Carreiro at .
Shadowhunters returns to Freeform on Monday, January 2. And just in time, as it seems the leading ladies will be going through an identity crisis in the second season.
As we also revealed in our interview with Shadowhunters execs Todd Slavkin, David Swimmer and author Cassandra Clare, the series is heading in a "darker, grittier, sexier" direction.
The tone is shifting – much to the delight of cast, crew and fans – and will see a greater focus on each and every one of the characters.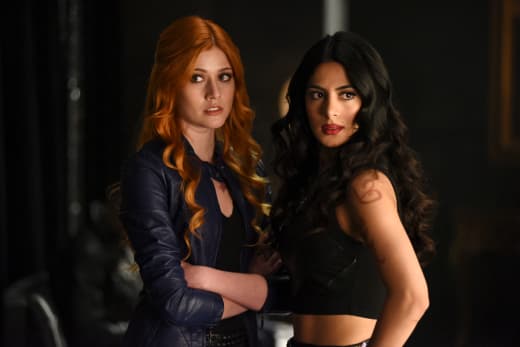 Particularly that of main heroine Clary Fray (played by Katherine McNamara).
The first season explored Clary being thrust into this new world of Shadowhunters.
But as McNamara notes, Clary (now familiar with her surroundings) will take a step back and evaluate her life.
"Does she even want to be a Shadowhunter? Does she want to go back to her old life? Can she go back or where does she want to be," wondered the star, explaining Clary's personal struggle and role as a Shadowhunter.
It's just one of the issues she will be facing, including a potential friendship, or possible frenemy, with new girl Maia.
Shadowhunter and Clary's friend, Isabelle Lightwood (played by Emeraude Toubia), will have her own relationships put her to the test.
Toubia states her character will struggle between her friendship with Clary and her brother Alec.
But that's just the tip of the iceberg. She hints at a possible dark path Isabelle may explore in the second season. Could she go to the dark side?
Check out the video below for the full interview from New York Comic Con. Enjoy the many tidbits revealed by two of the stars!
And don't forget! Shadowhunters Season 2 returns to Freeform on Monday, January 2 at 8/7c.
You can also watch Shadowhunters online via TV Fanatic for more.