Roswell, New Mexico Promo: Will Liz Keep Max's Secret?
Paul Dailly at .
It's a difficult time for the residents of Roswell New, Mexico. 
There are aliens roaming the streets, the government trying to round them up, and a dangerous secret that could change everything. 
On Roswell, New Mexico Season 1 Episode 2, it's the anniversary of Rosa's death, and the townsfolk take aim at Arturo and the diner because everyone still seems to blame him and his family for two deaths. 
However, Liz grows concerned that her father is hiding things from her and must keep her wits about her as she tries to get closer to the truth about what happened that fateful day. 
Not helping matters is Kyle showing Liz some evidence that seems to suggest her sister could have been murdered. 
Related: Roswell, New Mexico Season 1 Episode 1 Review: Pilot
Is this yet another ploy to turn her against the aliens in town, or is there something more sinister going on here? 
We learned on Roswell Season 1 Episode 1 that Isobel used her abilities to send Liz out of town 10 years ago and that she and her siblings had a connection to Liz's sister.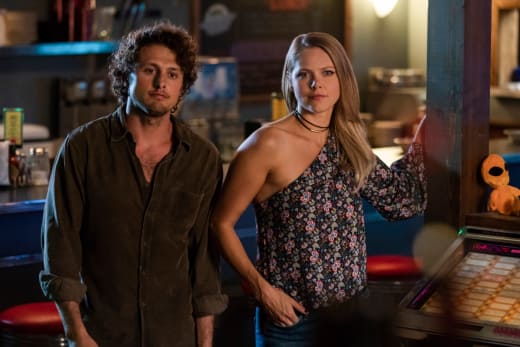 But Isobel and Michael have more pressing concerns on "So Much for the Afterglow."
Liz knows all about the alien secret, and the pair are worried she is going to sentence them to a life of being poked and prodded as part of experiments. 
Who can blame them? 
While those two are worried about that, Max will continue to wonder whether Liz's feelings for him are genuine or if they are a mere result of his hand being plastered across her heart. 
Oh yes, the action looks set to kick up a few gears. It's crazy, but we've already had so much story from one episode. 
Alas, have a look at the full teaser for the episode below. 
Roswell New, Mexico continues Tuesday, January 22 on The CW.