Life at the Sisters of Quiet Mercy is about to get a whole lot darker.
Our favorite Final Girl Betty Cooper will need to watch her back on Riverdale Season 3 Episode 7. Her life could be in danger now that she's trapped behind the walls of Riverdale's version of a horror house!
Alice's heart was in the right place by protecting Betty, but she made a bad decision. In what world would Betty be safe being confined to hell on Earth?
Now with the Gargoyle King's influence exposed at the SOQM, her escape is the only chance at survival. Will she make it out or could something sinister happen?
Based on the promo, Betty might be the next victim of this horror movie.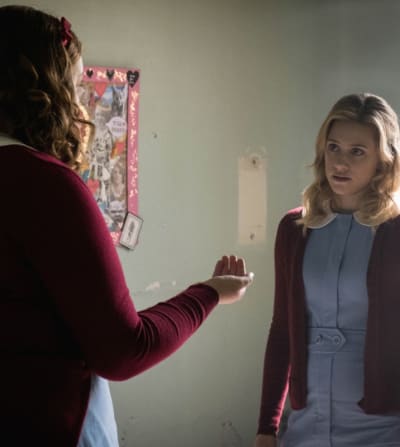 We see a few clips of Betty adjusting to the ordeal of living at the Sisters of Quiet Mercy.
She's in the same uniform that Cheryl had to wear as a patient, and there's a file already marked for her. However, things take a dark turn when friend-turned-frenemy-turned-enemy Ethel Muggs shows up to rub it in Betty's face.
From the way Ethel spoke to Betty, you could sense her diabolical joy at having Betty trapped with the devoted followers of the Gargoyle King. Plus, the short clip of Betty knocked out on the floor had to be because of Ethel.
Related: Get Shudder via Prime Video Channels for Spine-Tingling & Provocative Films, TV Series, & Originals!
Ethel did once say that Betty was "unworthy" of the Gargoyle King's knowledge, so this could be her payback.
There's also a few clips of a girl being dragged away and Betty being led to a strange chapel. Is this how they'll punish her for trying to escape?
Could they be introducing her to the Gargoyle King?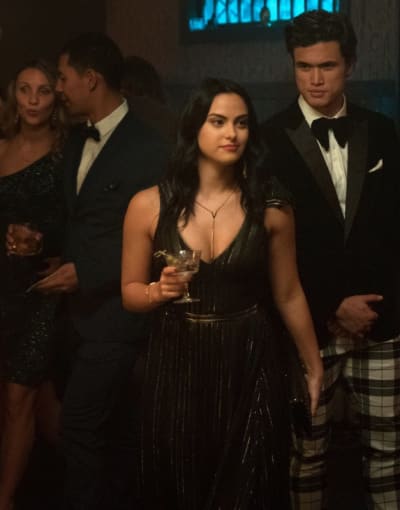 Jughead and Archie's farewell travels from Riverdale has led them to a farm. It doesn't seem like THE Farm where the Evernevers run their cult, but it's a suspicious farm, nonetheless.
Based on the clips, Archie is positively in love with the simple rural life. If he could wash his Riverdale troubles away, he would gladly sign up for this rustic lifestyle right now.
Plus, he's getting a little too close for comfort with the farm's owner, Laurie Lake (played by guest star Riley Keough).
She seemed like an innocent character, but there's something about the way she held the straight razor that set off all the warnings. Laurie could be someone they should be cautious around.
And, Archie just had a tearful goodbye with Veronica. There's no way he would hook-up with someone else this fast, right? (Seriously, Archie, don't!)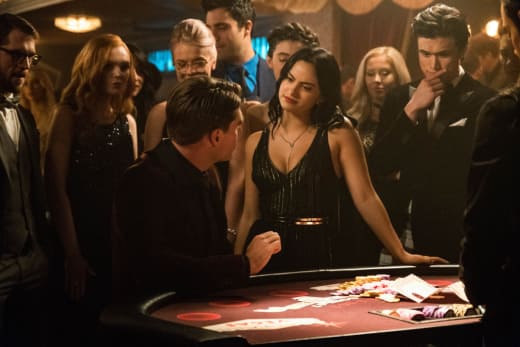 Elsewhere in the promo, Veronica is betting big in the hopes of winning big. She's playing a dangerous game of Blackjack that could take her to the cleaners.
She needs to cross every finger and find her nearest four-leaf clover. Lady Luck has to be on her side now more than ever.
Related: Riverdale Season 3 Episode 6 Review: Chapter Forty-One: Manhunter
Now, over to you, Riverdale fans!
Check out the trailer below and share your thoughts in the comments.
Don't forget, you can watch Riverdale online via TV Fanatic to get caught up on the mystery.
Riverdale Season 3 Episode 7 airs Wednesday, December 5 at 8/7c on The CW.