The prodigal son is moving in. This should be the happiest day in the Cooper family household with their son returning home. Unfortunately, things don't look to be all toothy smiles and photo ops.
Chic Cooper isn't fitting in on Riverdale Season 2 Episode 11.
Something seems off about the long lost Cooper. Others are noticing his strange behavior and that he's not like them. But, could he have more in common with his family than we think?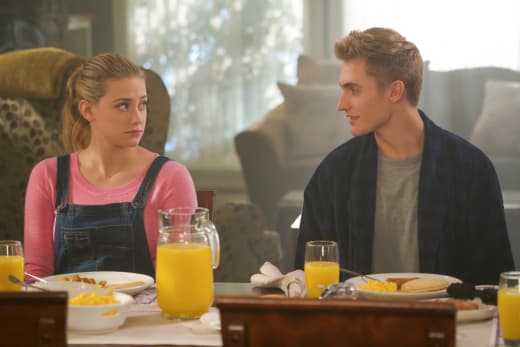 Betty has a "darkness" inside her. We saw her secret side emerge on Riverdale Season 1 Episode 3, but we don't know much else about it except that she feels it. This evil has been an ongoing mystery.
Based on the teaser below, Betty feels comfortable enough to discuss it with Chic. This could be the first step for the Cooper siblings to connect.
Does Chic also have the "darkness" in him? Is he simply misunderstood? What could this mystery be?
It's wrestling season at Riverdale High and the school is looking for a few new team members. Chuck Clayton, Archie Andrews and Kevin Keller are hoping to make the team. This competition looks like any other school tryout, but their coach won't make this an easy day.
Hiram Lodge is conducting the tryouts. And from the teaser, he has it out for Archie.
He doesn't think Archie is good enough for his daughter. Archie isn't going to sit back and let this slide. Sparks could fly during this competition.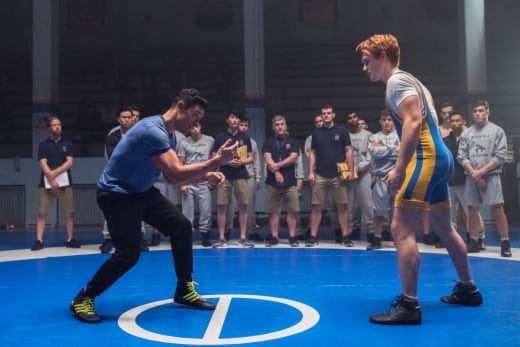 Also appearing in the teaser is potential drama between Veronica and Josie.
These two are really close friends. In fact, we've seen them perform together a number of times, like on Riverdale Season 2 Episode 5. They have magic behind the microphone.
Unfortunately, Veronica may have overstepped her boundaries. Josie is not happy at being manipulated by her friend.
What did Veronica do?
Check out the full teaser below and share your thoughts in the comments.
Don't forget, you can watch Riverdale online via TV Fanatic. Get caught up on all the past drama now!
Riverdale airs Wednesdays on The CW.