You know the movies about people with cancer who are miraculously cured after years of suffering?
Yeah, I can't think of one either, but let's just pretend we can all think of one. OK. Do you get the picture? Amazing, right?
Except, after years of suffering, you're then supposed to just get back to the life of living. That's what happens to Stella on Life Sentence.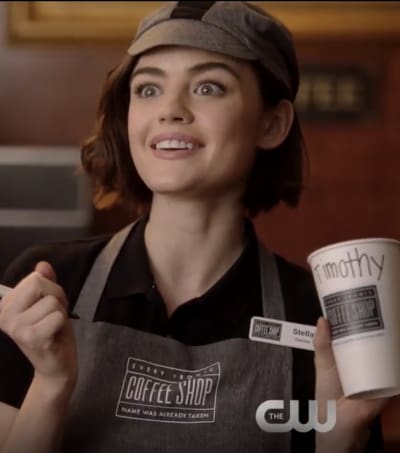 The thing is, Stella spent seven years living every day like it was her last.
So did everyone around her. 
That means there are a lot of secrets, and she's missed out on a lot of living the ordinary people have done while she was busy, well, dying.
The only job she can get as a millennial without a college degree and no experience? A barista. Her friends and family have pretended to be people they are not to make her happy.
Even her boyfriend held in his farts and his declaration he won't be able to do it all winter is one of the best scenes of the trailer. 
She wasn't so much living a lie as she was living in a fantasy world made by those who loved her.
Now that she's going to live, Stella has to learn how to do it in the real world. 
It's almost like starting from scratch. Can you imagine being a young woman and losing eight of your formative years?
At least she's not dying.
This is the first dramedy that's come to The CW that has piqued my interest, and it's a great project for Hale after the end of Pretty Little Liars.
Is this one you'll be watching? 
There is no word on when it will be airing, but we can guess sometime in 2018, alongside a lot of other new and returning shows on The CW.
Don't forget to leave your thoughts in the comments so we know what kind of coverage to offer up for Life Sentence.
Enjoy the trailer, below, and be sure to check out all of the other network trailers from the week, too!
Network:

Tag:

Related Videos:

Uploaded by:

Uploaded:

Duration: