Grey's Anatomy Season 15 Trailer: Meredith is Sleeping with WHO?!

Jasmine Blu at . Updated at .
Greys Anatomy is headed into season 15, and it's still holding on strong.
Greys Anatomy season 14 was a vast improvement on Grey's Anatomy Season 13. The season finally focused on the original characters as had been promised.
But the season was not without its controversies, as it ended with the shocking and devastating departures of two fan-favorites, April and Arizona.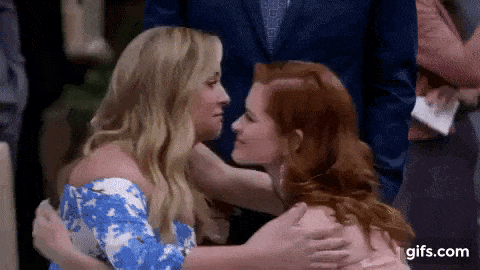 April came off of a fantastically written and acted arc that ended with a disappointing exit, and Arizona never fully recovered from the poor writing in the later years, but had an exit that somewhat satisfied Calzona fans.
Season 15 ushers in new series regulars with the return of Teddy and the addition of two new Male doctors.
Related:Grey's Anatomy Casts Alex Landi as Series' First Gay Male Surgeon 
We catch our first glimpse of new Ortho god, Link, played by Nashville's Chris Carmack. He already has patients practically panting in his presence because he's so pretty.
Who can say no to more eye candy and fresh meat to lust over on Greys? No one!
But we also catch a glimpse of Alex Landi, who plays Grey's Anatomy's first gay surgeon. Feelings are understandably mixed over losing an iconic and important LGBT character only to have a new one come in.
That's fair, but on a show that is lauded for its diversity, a recurring gay doctor has been long overdue.
Grey's Anatomy Season 15 is being hailed the Season of Love, and it's possible that means good old-fashion love triangles too.
Related: Grey's Anatomy Casts Chris Carmack as New Doctor 
On Greys Anatomy Season 14 Episode 24, Amelia and Owen seemed to be in a good place rekindling their relationship and forming their own pseudo-family after Owen ping-ponged back and forth between Amelia and Teddy.
The trailer shows Teddy spilling the beans about being 11 weeks pregnant to someone, but what is it going to be like when Owen (who is shown with Leo strapped to his chest like a dorky dad) and Amelia find out?
It's going to be awkward.
But nothing is as awkward as the interaction between Meredith and DeLuca.
The series and folks behind it have maintained that Meredith is a strong woman who doesn't need a man. She happily parted ways with Nathan early in Season 14, and somehow didn't throw herself at Nick (played by the charming Scott Speedman).
Related: Grey's Anatomy Season 14 Episode 24 Review: All of Me
Nevertheless, you can't tease a season of love without giving a little something-something for the series lead. That something-something might be, brace yourselves, DeLuca!
Yes, there is a shocking clip of the two of them in bed together. Um, what?!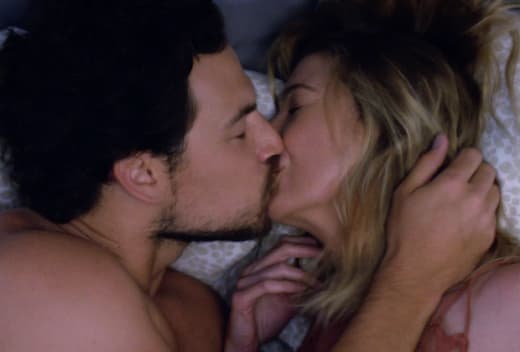 The pair shared a kind of hot kiss in the finale when DeLuca got drunk and made a move. Up until that point, he had been moping after his girlfriend fled the country to avoid deportation.
He pretty much became the latest stray Meredith and Maggie adopted into the household as he took up residence on their couch like an abandoned puppy.
So let's count that as reason number one this has to be the show yanking our chains. If someone spends a week on your couch crying, failing to shower, and being treated like one of your children, no matter how hot and sweet they are, it kills the attraction.
There's also a matter of Deluca formerly dating Maggie. No one wants a repeat of that godawful Meredith/Nathan/Maggie fiasco.
Meredith couldn't possibly sleep with her sister's ex, right?!
Maybe Meredith had a sex dream after that kiss they shared, or maybe she had that drunken hook-up some people have after a wedding takes place and love, lust, and alcohol are in the air.
Related: Get Great Selection of New & Classic Movies with the Lifetime Movie Club via Prime Video Channels! 
I guess we'll have to find out when Greys Anatomy returns with all-new episodes on September 27.
Until then, check out the trailer below, and you can watch Grey's Anatomy online if you need to catch up!