Grey's Anatomy Promo: Nobody Puts "Betty" in a Corner!

Jasmine Blu at .
Betty Not Betty is bringing the drama. 
She's also bringing her parents on Grey's Anatomy Season 15 Episode 13. 
Not Betty's parents had no idea where the teen has been for multiple months, and they also had no idea that she had a baby.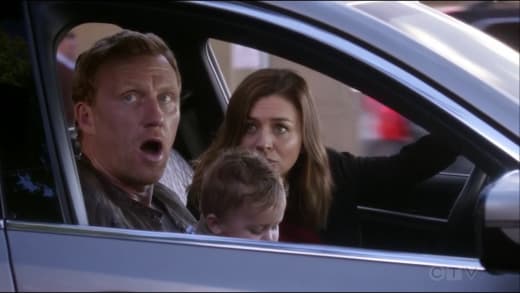 That complicates things for both Amelia and Owen. Amelia has been taken care of  Not Betty all of this time, but she hasn't done it the legal with via the system. 
Owen has been a foster father to Leo, but he has become attached enough to the baby to want to adopt him. Although Not Betty has been part of their lives, it didn't seem to cross his mind that she would want to raise him herself. 
Related: Grey's Anatomy Season 15: We Need to Talk About Some Unrealistic Diversity
Now that Not Betty's parents are in the picture, they are the next of kin who can legally have custody of little Leo. 
Owen is terrified that he may lose Leo to his grandparents, and he has every reason to be. 
Also, did I mention living legend Jennifer Grey is playing Betty's mother? How awesome is that?! 
Grey's Anatomy Round Table: Find Someone Who'll Build You A Treehouse
It seems like the universe won't let Owen and Amelia be happy for too long, and it damn sure won't let this man have a baby in peace, but with Teddy expecting, he won't be left childless again.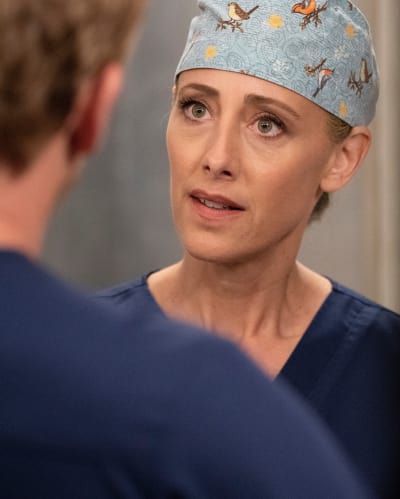 Elsewhere, things continue to heat up between Meredith and DeLuca. 
After their rooftop makeout, she can't seem to keep him off her mind. In the promo, every time she looks in his direction she's getting hot and bothered. 
Related: Watch Real Lives, Real Stories, & Real Celebrities on Reelz Channel via Prime Video Channels!
It's just her luck that he apparently has nothing better to do than to give her sexy looks and sexy head tilts. 
Not only does he have her flustered, but they are making plans for a legitimate date, so fangirl away you MerLuca fans. 
Check out the promo below and hit the comments with your reaction. 
You can watch Grey's Anatomy online here via TV Fanatic!