Grey's Anatomy Promo: Meet TGIT'S Newest Heroine!!

Jasmine Blu at .
It's time to get to know Seattle's finest!
No, we're not talking about the doctors of GSM, we're talking about the firefighters of Station 19.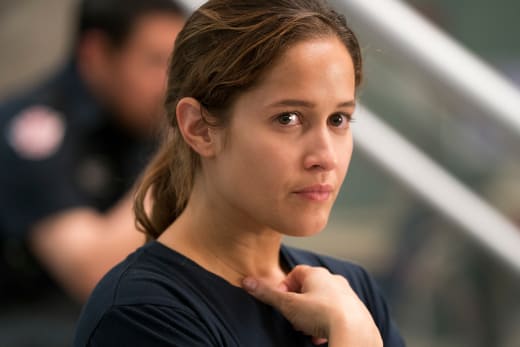 Grey's Anatomy Season 14 Episode 13 will be the much-awaited backdoor pilot for the latest offering from Shondaland. We'll have our first introduction to the new leading lady added to TGIT, Andy Herrera. 
She's going to make a hell of a first impression with a case that will remind long-time Grey's Anatomy fans of  Grey's Anatomy Season 2 Episode 16 and Grey's Anatomy Season 2 Episode 17.
Andy will also find herself in a position where her hand is stuck in the cavity of a young boy.
It makes sense that she and Meredith will connect the most, and Meredith will talk her through the intense surgery. 
Meanwhile, the other doctors will be hard at work on their projects. We can expect to see the interns in action more too.
As for Amelia, she will bring in her old mentor and lover, Tom, to help her and Alex with their complicated Kimmy case.
Kimmy was the sweet patient with the powerful voice. With the three of them putting their heads together, she may be able to sing at her spring concert after all. 
Grey's Anatomy returns with an all-new episode on March 1. 
Don't forget, you can watch Grey's Anatomy online here via TV Fanatic!
Check out the promo below, and sound off with your thoughts!