Grey's Anatomy Promo: Long Live Lepherd!!

Jasmine Blu at .
We're totally 'shipping the hell out of Amelia and Link, right? 
You know how the story goes, boy flirts with girl, neither share much screentime, boy awkwardly comforts girl when she's having a breakdown, and girl gets her hair cut for a fresh start and shares a "moment," and fans go wild!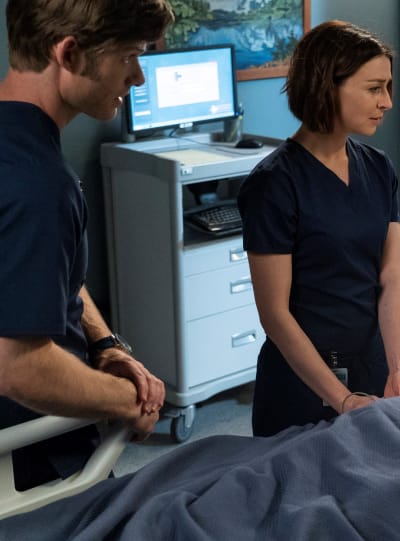 As wild as their 'ship name. Lepherd.
Well, after Grey's Anatomy Season 15 Episode 17, I expect to hear you Lepherd 'shippers roar!
See what I did there? 
The promo for the next episode teases a couple of relationships.
Related: Grey's Anatomy Season 15 Episode 16 Review: Blood and Water 
Merluca is getting cute and flirty, but we've been there and done that. 
Teddy and Owen are giving each other the eye, but aren't we tired of that merry-go-round? 
However, Amelia and Link are heating up. Sign us up, please! 
Amelia chose to step out of her Owen circle and do what was best for herself.
It looks as though she did the classic hair chop to signify this new phase in her life. 
-Related: Get Hallmark Movies Now via Prime Video Channels for Stories with Heart, Captivating Movies & More! -
The big chop looks good on her too. She heads out of town for a conference on alternative medicine, but are we left to presume Link is attending the conference as well? 
In the promo, Link is serving her The Look, and Amelia tells the Ortho god/Thor she needs to head back to her hotel room. The implication is she needs to head back before she does something naughty. 
Let your freshly chopped hair down, I say! 
Owen didn't waste any time telling Teddy about his breakup with Amelia. The question is if it will matter to Teddy who appears to be happy with Tom? 
Check out the promo below, and share your thoughts. 
You can watch Grey's Anatomy online here via TV Fanatic.