Grey's Anatomy Promo: If Miranda Dies, We Riot!

Jasmine Blu at .
If they so much as harm a hair on Miranda *insert middle name* Bailey-Warren's head all hell will break loose!
What happens when the backbone of Grey's Anatomy has a heart attack? The GSM family will never be the same, that's what happens.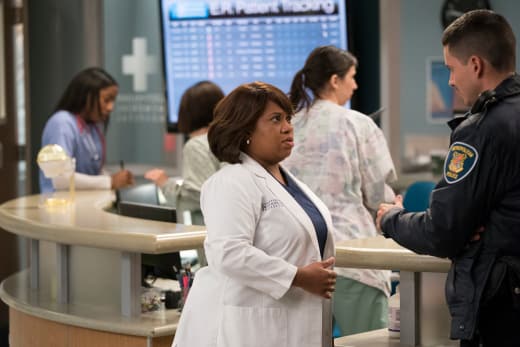 There is so much going on with Miranda.
She's running the hospital, which is a hard job in and of itself, especially when that hospital is Grey Sloan Memorial. She has a host of doctors who are deadset on giving her gray hairs, and she has a small child too.
Then, of course, there's the fact that Ben is taking on a new position that we'll see more of on Station 19.
Miranda Bailey has a lot on her plate and a lot to be stressed about. Unfortunately, it's all going to catch up to her on Grey's Anatomy Season 14 Episode 11. 
Grey's Anatomy had a sweep of deaths on Grey's Anatomy Season 14 Episode 10, but they haven't killed off a beloved main character in quite some time.
Could this be the end of that streak? Hopefully not!
You can watch Grey's Anatomy online here via TV Fanatic!
Check out the promo for "(Don't Fear) the Grim Reaper" below!