Michael Cerveris is ready to show everyone what his Professor Pyg can do.
The Red Band Trailer below is somewhat of an Emmy reel for the actor as it showcases everything Pyg has done in Gotham so far and what he's about to do.
How will the dinner he's about to serve come about? Why does everyone accept his invitation?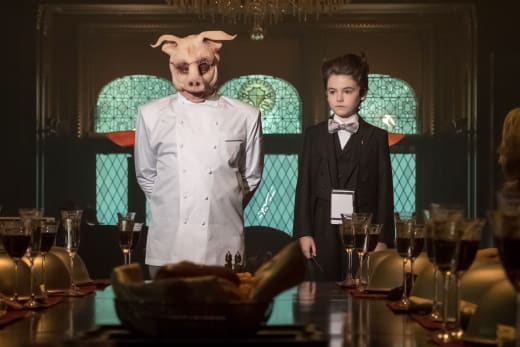 Professor Pyg isn't shy about sharing his pie's ingredients nor is he concerned his guests might not want to eat his version of Soylent Green.
That's right kids, Pyg Pie is People!! If you watch Gotham online, you know there isn't much Professor Pyg isn't willing to do. What does his farm to table look like?
Where is Pyg getting people? Are they the friends and colleagues of the dinner guests?
Are they the bodies of people still missing?
Or maybe Pyg is pulling on the legs of his guests just to get a rise out of them. 
Let me tell you, if you're not in for some sticky situations, do not watch the trailer below.
Pyg is going to every length to ensure his food is eaten, even if it might not be enjoyed.
He has power at his own table, and he intends to use it. 
At least one well-known guest isn't making it out in the same condition in which they entered, and another? Well, let's say if they're still alive, they won't be living to their fullest capacity.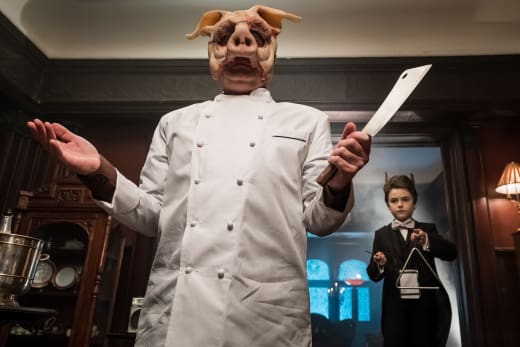 Whoa Nellie, this dinner on Gotham Season 4 Episode 9 is going to take an ugly turn. 
And by that, I mean thrilling! Can Jim save the day? Why did Pyg pave the way for Jim's ascension in the ranks?
We're about to find out. Watch the trailer now and be sure to watch Gotham Thursday, November 16 at 8/7c only on Fox!
Drop us a line if you have ideas of what the end of this special meal might bring.
We want to hear from you!!