Game of Thrones Trailer: War Is Brewing
Paul Dailly at .
Remember that big meeting that's been teased for Game of Thrones Season 7 Episode 2?
A new trailer released for San Diego Comic Con has shed new light on it. 
Well, it looks like Daenerys will be meeting Melisandre, and we're not entirely amused by it. All signs pointed to her meeting Jon Snow. 
It's a little annoying that we've been waiting so long for the meeting, so knowing we have to wait longer is not ideal. 
However, every other scene in the epic trailer released by HBO more than makes up for it. 
Samwell's father, Randyll Tarly meets with Cersei in the throne room, and it sure looks like Cersei is reeling him in to help her deal with Daenerys. 
The truth is, Cersei knows Daenerys having three dragons and a huge army threatens her reign on the Iron Throne, but will she be able to round up enough people to cause some unrest for the Mad King's daughter?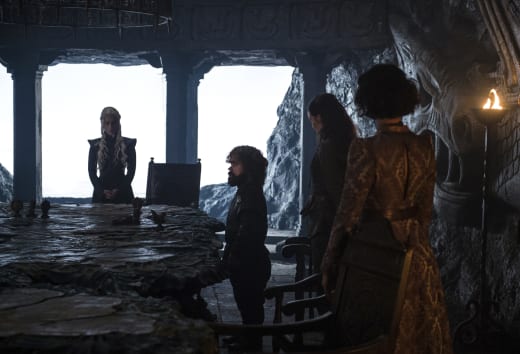 Oh, and Euron is back, and it sure looks like he's ready to bow to Cersei, but what did he bring her back from his travels in order to get on her good side?
Elsewhere, Jon knows that Daenerys has dragon fire, so we know someone at Dragonstone has sent a Raven to Winterfell. 
Could Theon be trying to right his wrongs and make a truce with Jon?
We don't know, but it's sure fun to speculate. 
We also get a glimpse into two separate battle scenes, and, well, we're kind of excited. This trailer has been billed as one for "Stormborn."
Are we really going to have two battles in one episode?
Time will tell. 
Have a look below and watch the full trailer. Hit the comments with your take on it!