Designated Survivor Promo: Playtime is Over!

Lisa Babick at .
Kiefer Sutherland will once again be the most powerful man on Television when Designated Survivor returns on Wednesday, September 27.
We don't know about you, but we're quite excited. 
Tom Kirkman has come a long way since that shocking day when he became President. Who would ever have guessed that someone would blow up the Capitol?
But despite the craziness, Kirkman showed he could handle anything, and he did so with grace and style.
Sure, he was a pushover in the beginning, but he slowly learned how to handle himself on the political landscape.
And he wasn't afraid to show his anger when he needed, and boy did he do that a couple of times.
Remember, the hand slam on the table to get everyone's attention at the big meeting? Best Kirkman moment of the entire series.
In the promo below, we get to see Kirkman take control again. He doesn't seem to be happy with whatever is going on, and it's clear he's not taking crap from anyone.
President Kirkman works much better when he has some bite in him. While it's nice to have a calm and measured guy for President, we also want to see a President who will kick some butt when necessary. 
And even when he's angry, Kirkman still has it under control. 
There are rumors that Designated Survivor is going to lean more towards a West Wing type of show this season. Whatever works for them works for us as long as Kiefer Sutherland is involved.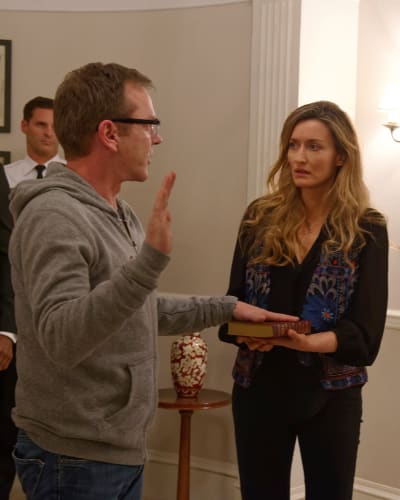 Are you excited for the news season? What are your expectations?
Hit the comments and let us know!
Designated Survivor returns on Wednesday, September 27 at 10/9c on ABC!
If you need to catch up before then, you can watch Designated Survivor online right here via TV Fanatic!