The International Response Team is called to Taipei when it appears that an American committed a crime that's similar to an unsolved case in New York.
What other details do we learn about the case from our exclusive clip?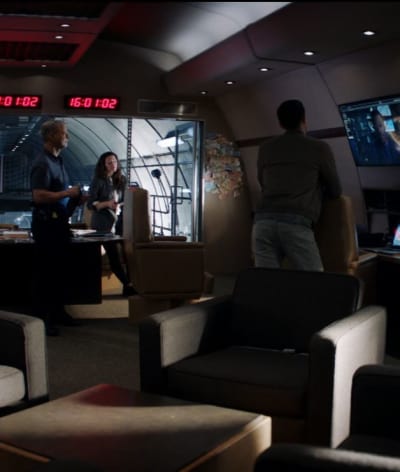 First things first, Russ discovers that because not all Pacific Rim countries participate in the INTERPOL database, their killer has been dancing around a lot longer than anyone knew.
That's good to know for all of you planning on...wait, scratch that. Did we need to know that?!
Maybe "Type A" should be shown around the world as to WHY all countries should be a part of INTERPOL.
Geez Louise.
Other than that, we discover our friend Emily Prentiss (Paget) Brewster from the BAU over on Criminal Minds got a tip that was instrumental in this determination.
She'll also be guest-starring on the episode, as you can see in a photo above.
Oh,  yes. The killer likes to use benzos to slow down their victims, too. 
I'm sure that doesn't make a difference to their victims unless they are completely asleep. From my keyboard to the killer's brain, please.
Are you ready to watch to see what other important facts are disclosed? Of course you are!
Tune into CBS tonight at 10/9c to see the entire case unfold. Don't miss a minute of the action!!
Show:

Tags:

Episode:

Related Videos:

Uploaded by:

Uploaded:

Duration: