Animal Kingdom Season 2 Trailer: Things Go Wrong Sometimes

Lisa Babick at . Updated at .
Animal Kingdom Season 2 is right around the corner, and TNT has released a new promo in anticipation of the new season.
The Codys are back and doing what they do best to make a living. Almost being busted by the Feds hasn't deterred them at all.
The big jobs are the big jobs and the small jobs are the small jobs.
But Smurf's bullying might have finally gotten to the boys and they can't – or won't – deal with it anymore.
Will they finally stand up to her and do their own thing? Will they be able to?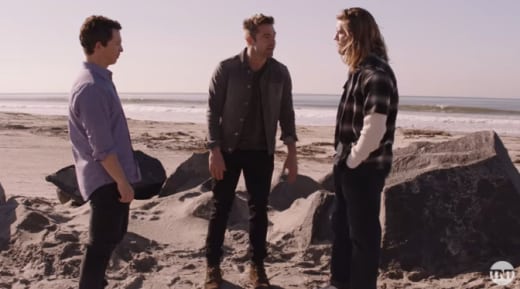 Smurf is the mastermind behind all the big jobs, but maybe Baz thinks he's smarter than her. 
It definitely won't turn out well for them. Smurf doesn't seem to be the very forgiving type.
But Smurf might have her own problems to deal with.
Did her mom's boyfriend survive? Smurf's going to have to watch her back more than usual if the guy actually lived. Even if she did kill him, who knows what the neighbors might've seen.
How does J fit into everything that's going on?
He didn't turn his back on the family when he had the chance at the end of Animal Kingdom Season 1, but how much is he willing to put up with?
Will he demand a bigger piece of the pie now that he's shown his loyalty?
It looks like Nicky is hooking up with Craig, so will he finally lose it? Or will he let it go?
And will we ever find out who J's father is. My bet is still on Baz.
Will Darren's secret finally come out? Craig and J already know, but how will everyone else react?
Will Baz find out what Pope did to Catherine? Will he confront Pope? It's not going to be a pleasant confrontation and Baz better watch himself.
Pope lives on the other end of crazy and if he could kill the woman he loved, he'll have no problem killing Baz.
It's going to be a crazy season for sure!
Animal Kingdom returns on Tuesday, May 20 at 9/8c on TNT!
Be sure to check back here for our full review after the episode airs.
If you need to catch up, you can watch Animal Kingdom online right here via TV Fanatic!