Watch The Originals Online
Watch The Originals online via TV Fanatic. We offer fans a number of platforms, on which they can enjoy Elijah in a suit, Klaus in a rage and a whole lot more.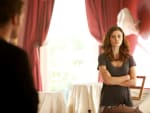 Watch The Originals Season 1 Episode 1
"Always and Forever"
Original Air Date:
On The Originals series premiere, we'll learn why Elijah was so eager to return to New Orleans as the pilot episode is retold from the elder Originals' point of view.
You can quickly and easily watch The Originals online. We make the CW hit available on a number of platforms, all of which give you a chance to drool over Elijah in a suit. You can also watch The Originals online to see Klaus in a rage and Hayley looking gorgeous. Each week, we'll post new episodes on the site, allowing readers, fans and viewers to easily catch up on what's happening in the French Quarter. You really don't wanna miss an episode, TV Fanatics. How else will you keep up on Twitter? How else will you remain part of the water cooler conversation? So go ahead and watch The Originals online in order to find out what just happened and to guess what might happen next.