707
Project Runway Season 9 Episode 7 (09/08/11)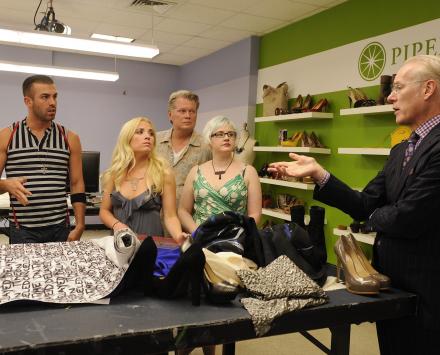 Recap
-The designers are divided into two teams. The HP sponsored challenge has the them creating their own fabric, and making a cohesive collection which includes a video presentation. Designer Betsy Johnson visits to show off her fashion video.
-Team Nuts & Bolts is Josh M., Bert, Laura, Becky, Kimberly
-Team Chaos is Anthony, Viktor, Oliver, Bryce, Anya,
-Team Nuts & Bolts does nothing but argue. It gets so bad that Tim has them hold hands and vow to work together.
-The guest judges include fashion designer Rachel Roy and actress Rose Byrne.
-Team Chaos wins with their inkblot print inspired looks. The judges love Viktor's evening gown and Oliver's jacket buy Anya's cocktail dress is deemed the winner.
-The judges hate all of the prints on Team Nuts & Bolts. Josh M's bad attitude and endorsement of the prints could be his undoing but Becky is sent home for having the weakest design.