Castle Clips (Page 4)
Castle will pull off an impressive double on tomorrow night's new episode. The hit ABC series will up the romantic ante between its title character and Kat...
Castle will delve into the murky, grey waters of the political arena on Monday, as the team takes on a case that directly involved the Mayor. How will the ...
Jingle bells will be replaced by wedding bells on Monday's new episode of Castle, as Ryan exchanges vows with long-time girlfriend Jenny. I'll post an inte...
Castle is about to get both kinky and confusing. On Monday's new episode of this ABC hit, Castle and Beckett will wake up with multiple reasons to be surpr...
Castle is getting set to rip a character straight from the headlines. The nauseating, scripted headlines, that is. A recent ABC casting notice reveals that...
Yes, Castle, The Ghost Wranglers are here. On Monday's new episode of this ABC hit, Rick will get awfully excited because he spots the van of his all-time ...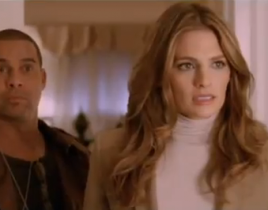 Kristin Lehman guest stars on this Monday's episode of Castle - and it's safe to say she makes an impression on both Kate and Castle. The actress will port...
Ah, Rick Castle. Always so generous and so witty. Both those traits are on display in the following clip from "Kick the Ballistics," as first Castle brings...
We are one week ago from the season four premiere of Castle. But fans can get an early look at the installment titled "Rise" right now, via the following v...
Let's face it: we all know Kate Beckett will survive the season three finale shooting on Castle. But that incident will have a far-ranging impact on Rick C...