The Big Bang Theory Quotes (Page 4)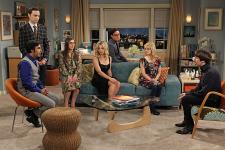 Amy: If you'd let me pierce your brain with a hot needle in the right place you'd be happy all the time.
• Rating: 4.0 / 5.0
Sheldon: Bernadette's diary has some saucy bits.
• Rating: 4.0 / 5.0
Amy: Used me as a human shield?
Sheldon: I panicked. He looked taller than usual.
• Rating: 4.5 / 5.0
Howard: Sheldon, I swear to God I'm going to kill you.
• Rating: 5.0 / 5.0
Howard: It's ridiculous that we still have to walk up all these stairs.
Bernadette: Yeah, try doing it in heels.
Howard: I am.
• Rating: 5.0 / 5.0
Sheldon: My shirt is itchy and I wish I were dead.
• Rating: 3.5 / 5.0
Sheldon: I can't tell you that. I'm bound by closet organizer/organizee confidentiality.
• Rating: 5.0 / 5.0
Bernadette: I told you you shouldn't have espresso after dinner. I know the little cups make you feel big but it's not worth it.
• Rating: 5.0 / 5.0
Leonard: Mmm, you know, we could throw a dinner party too. Maybe even ask everyone to get dressed up.
Penny: Sure. Just when you say "dressed up" you mean nice clothes, right? Not, like, capes and tights and crap
Leonard: Although...
Penny: No.
• Rating: Unrated
Sheldon: I found three bowling pins. Do you juggle these or are you missing seven?
Howard: Juggle.
Sheldon: You health nuts kill me.
• Rating: 4.0 / 5.0
Amy: His quirks just make you love him more. ... Someone please agree with me.
• Rating: 4.0 / 5.0
Bernadette: Sheldon, I've been cooking all day.
Sheldon: Well ... now don't you feel silly.
Bernadette [to Howard]: Show him the closet
• Rating: 4.5 / 5.0
Bernadette: You can't just throw everything in the closet.
Howard: Hey, you can tell what to do or you can tell me how to do it, but you can't do both. This isn't sex.
• Rating: 4.5 / 5.0
Season 6 Episode 18: "The Contractual Obligation Implementation"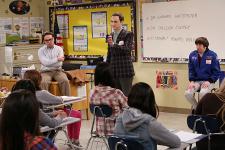 Amy: Sheldon ... all Snow White needs is one small kiss to wake up.
Sheldon: Heard you the first time.
• Rating: 5.0 / 5.0
Raj: I'm counting that as foreplay.
• Rating: 5.0 / 5.0
Bernadette: Everyone of you has the capacity to be anything you want to be.
Penny: Unless you want to be Cinderella.
Bernadette: Come at me. See what happens.
• Rating: 5.0 / 5.0
Amy: The world of science needs more women, but from an young age we girls are encouraged to care more about the way we look than the power of our minds.
• Rating: 3.8 / 5.0
Sheldon: Hello, female children.
• Rating: Unrated
Bernadette: We can't all be Cinderella.
Amy: Then, how do we decide?
Bernadette: Well, it's simple. This was my idea. I'm driving. I'm Cinderella. You bitches got a problem with that we can stop the car right now.
• Rating: 5.0 / 5.0
Howard: Last time I was here, I was a scrawny little nerd.
Leonard: And, now, you're also an astronaut.
• Rating: Unrated
Are we missing your favorite "The Big Bang Theory" quote? Submit it here and get points for adding quotes!
Total Season 6 Quotes: 282
Total The Big Bang Theory Quotes: 1228