Family Guy Season 5 Quotes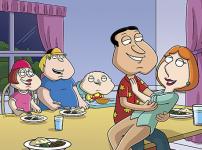 Cleveland: Hey Quagmire, how was your date last night?
Quagmire: Cleveland, it was amazing. You know what I discovered last night? Women have a fourth hole.
Joe: What?
Quagmire: Yeah, I mean it's only visible if you're looking from exactly the right angle, like the entrance to Hogwarts. But ya gotta believe that it's there.
Peter: Man, I envy you single guys. No families, partying whenever you want. These are the only people I get to party with. (holds out his wallet, with a picture of the kids)
Quagmire: (Pointing to Meg) Oh, that's where the fourth hole is, right there. Right there in the back of the knee.
• Rating: Unrated
Brian: (to 18 year old Lois) Could I 'Wham' my 'Oingo Boingo' into your 'Velvet Underground'?
• Rating: 4.6 / 5.0
Brian: You ever hear of the theory that if you kill a butterfly in the past, it can drastically alter the present? Well who knows what else we changed.
(Peter turns the TV on)
Announcer: Tonight on the Tonight Show, movie star George Clooney.
Peter: Oh, he's good.
Announcer: Comedian Dave Chappelle.
Brian: He's funny, like him.
Announcer: And musician Harry Connick Jr.
Peter: Wow, what a show.
Announcer: And now, ladies and gentleman, heeeeeeeeeere's Chevy!
Peter: Oh god Brian, we messed up bad! We messed up real bad!
• Rating: Unrated
Peter: Let's just all be grateful things are completely back to normal again.
(Roger from American Dad walks on screen)
Roger: Who ate all the Pecan Sandies?
• Rating: Unrated
(Horace tries to fix T.V. but falls down, hits floor hard. He stops moving)
Bar patron: Oh my God! Is he dead? I think he might be dead!
Death: Oh, did you hear that? Noah Wyle here thinks he might be dead. Step aside junior. (Walks to Horace and pokes him with his scythe) Nope, he's just knocked out. Damn! I drove all the way out here! I had to cancel another appointment! Never like to be too far away from Mike Wallace.
(Cuts to Mike Wallace using a type-writer. Death is sitting in a lounge-chair reading a newspaper behind him. Mike stops typing, and Death looks up from his paper. Mike resumes typing and Death goes back to reading his paper)
• Rating: Unrated
Molly Ringwald: Hey, did you guys hear on the news about President Gore hunting down and killing Osama Bin Laden with his bare hands?
Lois: I know! Who would have thought Bin Laden was hiding out in the cast of MADtv?
Quagmire: Man, the perfect hiding spot. The one place no one would look.
• Rating: 5.0 / 5.0
(Peter is talking with Brian, about returning to the past to correct the present)
Peter: I don't care what it takes, Brian. I gotta get Lois back somehow.
Brian: Well, the only one who can help us is Death, and he only shows up when somebody dies.
Peter: Ah, that's gonna be tough. With President Gore's Universal Health Care, people are living much longer these days.
Brian: And with Zero Tolerance gun control and a strong, well-funded educational system, there's no street crime. Face it, Peter, you not marrying Lois was the best thing that ever happened to the world.
Peter: I don't care! We gotta find a way to summon Death, and quick!
(Jane Jetson falls out of the sky to the pavement, dead)
Peter: Well, that might do it.
(Death appears)
Peter: Death, oh thank God you're here! Listen, you gotta send me back in time again, so I can marry Lois!
Death: Man, it's been a busy day. Dick Cheney, the chairman of Haliburton, shot Supreme Court Justice Scalia in a hunting accident, and the bullet went right through him and killed Karl Rove and Tucker Carlson.
Brian: Oh my God, Peter, you can't marry Lois!
Peter: I don't know who any of those people are.
• Rating: 5.0 / 5.0
Lois: Meg, stop staring at Mr. Griffin. I'm sorry Peter, I'm afraid she has her father's libido.
Quagmire: What can I say? I'm a Vagittarius. Oh!
Chris, Meg, and Stewie: (all laugh) Giggity, giggity, giggity, giggity, giggity, giggity, giggity.
• Rating: Unrated
Quagmire: Hey Lois, I'm ready for your pie. And you made dessert too, oh!
• Rating: 5.0 / 5.0
Radio: Stay tuned for President Ronald Reagan's weekly radio address.
Peter: Ronald Reagan? The actor? He's president?
Brian: Peter, you're the one from the future, you should know - ah, forget it.
• Rating: 5.0 / 5.0
Peter: (inadvertently punches the giant chicken)
Some guy: Oh whoa big guy,(holding the giant chicken), you probably never even gonna see him again.
• Rating: 5.0 / 5.0
(Lois walks out of Quagmire's house to pick up a letter from the mailbox)
Peter: Lois, what the hell? I'm gone for one night and you sleep with Quagmire?!
Lois: Mr. Griffin, what I do with my husband is none of your business.
Peter: Husband?
Quagmire: Morning, Pete. Hope you and Molly can still join us for dinner tonight. Baby, Let's go play "Schoolgirl & Guy Who Has Sex With Schoolgirl".
(Lois giggles)
• Rating: Unrated
Death: It was nice meeting you, Miss Ringwald. I'll be back later for your career.
• Rating: Unrated
Lois: Peter used to be so passionate, but now he doesn't seem to be interested in me.
Quagmire: Lois, if I may, Peter doesn't you. As a friend, I think you deserve to be with someone who knows how to be a gentleman.
Lois: Oh, Glen. You're so sweet. (They embrace) Something's poking me.
Quagmire: It's alright. It's just my wang.
• Rating: 5.0 / 5.0
Lois: Peter, what are you doing?
Peter: I love you, Lois Pewterschmidt! And I won't let Quagmire, or any man, she-male, robot, or sentient robot, curious about it's own existence keep us apart!
• Rating: Unrated
Season 5 Episode 17: "It Takes a Village Idiot, and I Married One"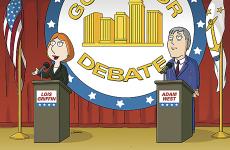 Adam West: (to a woman on the street) Hey baby, wanna take a gander at some Adam West penis?
• Rating: 4.3 / 5.0
Tom Tucker: Good evening Quahog, I'm Tom Tucker.
Diane Simmons: And I'm Diane Simmons. The Quahog mayoral race is heating up, with incumbent Adam West squaring off against challenger, Lois Griffin.
Tom Tucker: Which leads many political analysts to ask the question: Can a woman really be mayor? Or will she just menstruate all over the city? Stay with us.
• Rating: 5.0 / 5.0
Lois: Oh you guys, I can't tell you how much I appreciate all of your hard work. It's really gonna make a difference with my campaign.
Peter: Hey Lois, take a look. I just made five hundred tee shirts that say "Vote For Lois, unless you're queer. No, wait, even if you're queer. No Jews, though. Okay, Jews."
• Rating: 5.0 / 5.0
Chris: (rings doorbell, person answers) Hi, I'm going door to door to campaign on behalf of Lois Griffin, who's offering real change for the city of Quahog. May we count on your vote next Tuesday?
(Camera pans to show Lois standing in the doorway)
Lois: Chris, this is our house.
Chris: Ah, then what is for dinner?
Lois: Pork chops.
Chris: Excellent.
Lois: Chris, have you been to any other houses?
Chris: I have not.
Lois: Would you like to come in?
Chris: Please.
• Rating: 5.0 / 5.0
Tom Tucker: Well, the election results are pouring in, and it looks like it's gonna be a tight one. Which reminds me Diane, when was the last time you--ah, forget it.
• Rating: Unrated
Are we missing your favorite "Family Guy" quote? Submit it here and get points for adding quotes!
Total Season 5 Quotes: 338
Total Family Guy Quotes: 1802