Rick Castle Quotes (Page 35)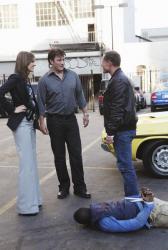 Season 2, Episode 3: "Inventing the Girl"
Castle: I can already see the blurb on my next book jacket; It's fashion week in New York City, and the clothes are to die for.
• Rating: 5.0 / 5.0
Ryan: Her purse is missing, no ID, and get this, we couldn't find her shoes.
Castle: I'm gonna go with still with Prince Charming at the ball.
• Rating: Unrated
Castle: She was probably at a club last night. It is, after all, fashion week. When all the hottest women in the world descend upon the hippest night spots like locusts. Except locusts eat.
• Rating: 4.0 / 5.0
Beckett: That's Teddy Farrow's logo. He designs clothes for women. Upscale. Expensive.
Castle: My credit card and I are painfully aware of Teddy's designs. I almost asked for custody of them after my last divorce.
• Rating: 4.0 / 5.0
Esposito: Castle, hey, is your girl here?
Ryan: Rina.
Beckett: Rina used to babysit Alexis, fellas. So as far as Big Rick here is concerned, she might as well be wearing a chastity belt.
Castle: Thank you for that visual image. And also, thank you for calling me Big Rick.
• Rating: Unrated
Season 2, Episode 2: "The Double Down"
Castle: You know, if this was one of those super-sciencey forensics shows, they'd stick some electrodes in these fishes' brains. Get a fish eye's view of whatever they saw.
• Rating: 5.0 / 5.0
Esposito: Loser wears a dress to the precinct for a week.
Ryan: And why stop there? Loser also shaves his head. Or are you chicken?
Castle: You're on, honey milk.
• Rating: 4.0 / 5.0
Castle: What is it about full moons that bring out all the crazies?
Beckett: I don't know, you tell me.
• Rating: 5.0 / 5.0
Dr. Parish: Looks like a patient lost his patience.
Castle: Also his command of grammar. You're should be you-'-re as in you are, that's not even a tough one not like when to use who or whom.
Beckett: Do you really think that's the take away here Castle?
Castle: I'm just saying whoever killed her also murdered the English language.
• Rating: 5.0 / 5.0
Season 2, Episode 1: "Deep in Death"
Castle: Hey! Can we talk about this, please?
Beckett: There's nothing to talk about.
Castle: Well, at least let me know what I can do to make it up to you.
Beckett: You can leave me alone.
Castle: Yes, I tried that and it didn't work. Hey! I can buy you a pony!
• Rating: 5.0 / 5.0
Are we missing your favorite quote from "?" Submit it here and get points for adding quotes!
Total Quotes: 379