Jake Harper Quotes (Page 7)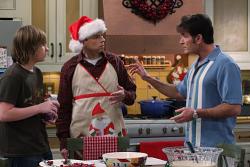 Season 7, Episode 3: "Mmm, fish. Yum."
Jake: Uncle Charlie, do you need to go anywhere?
Charlie: Yeah, away from you
Jake: You want me to drive?
Charlie: You want to drive my $80,000 Mercedes?
Jake: Yes, please
Charlie: He's unnecessarily polite for a future doorman
• Rating: Unrated
Judith: Just because he's fifteen doesn't mean he's ready to drive
Jake: I've been driving for years. Grand Theft Auto 1, Grand Theft Auto 2. And I've never drove anyone over except for pimps and crack whores.
Alan: Jake!
Jake: Sorry, dad. Crack prostitutes.
• Rating: 5.0 / 5.0
Season 7, Episode 1: "818-jklpuzo"
Berta: That's a pretty mouth, but it's not made for singing
Jake: What's it made for?
Alan: Eating
Jake: I thought she meant oral sex
• Rating: 5.0 / 5.0
Jake [about his sister]: So far she eats, she poops and she sleeps. I'm not impressed
Berta: Give her a bad hair cut and she'd be you
Jake: Excuse you, I paid $9 for this haircut
Berta: Sorry
• Rating: Unrated
Season 6, Episode 24: "Baseball with Better Steroids"
Charlie: Alan, smack your kid for me
Alan: Should we really risk more brain damage?
Jake: Thanks for sticking up for me
• Rating: 3.7 / 5.0
Season 6, Episode 18: "My Son's Enormous Head"
Jake [about Chelsea]: Maybe she has an std
Charlie: What?
Jake: It means sexually transmitted disease
Charlie: I know what STDs are
Alan: Your uncle helped invent them
Jake: You know they can be prevented by using a condom?
Charlie: I know we could have prevented you by using a condom
• Rating: 5.0 / 5.0
Jake: As soon as I get my license I'm so out of here
Alan: Sure, and you can drive your girlfriend to Gymboree
Jake: At least I have a girlfriend
• Rating: 5.0 / 5.0
Alan: What's the problem?
Jake: She's nine
Alan: Nine? Where would you meet a nine year old girl?
Jake: We're in the same math class
Alan: Is she one of those advanced students?
Jake: Sadly, no, but she does help me with my homework
• Rating: 5.0 / 5.0
Season 6, Episode 15: "I'd Like to Start with the Cat"
Alan: If you want dessert, have an apple.
Jake: Not funny, Dad.
• Rating: 5.0 / 5.0
Season 6, Episode 12: "Thank God For Scoliosis"
(After Janine goes into the kitchen)
Charlie: You don't know who you're messing with.
Jake: (yelling loudly) Are you kidding? I think she's gorgeous! (then slaps his hands together to make her think Charlie's hitting him) OW!! OW!!! (smugly) You don't know who you're messing with.
• Rating: Unrated
Are we missing your favorite quote from "?" Submit it here and get points for adding quotes!
Total Quotes: 275